A convergence of technologies is bringing 3G imaging to a variety of consumer electronics including digital cameras and HD televisions. In many cases, these new displays don't require any cheesy glasses to render an image with depth. We've already seen researchers use the front camera of the iPad 2 to create a three-dimensional illusion, pictured below.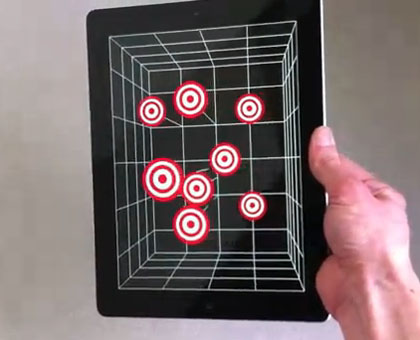 They plan to release an app that will showcase this method of displaying 3D, which relies on head tracking software. Other methods of displaying 3D used in some devices rely on specialized displays. According to a recent report featured in PC Magazine, the iPad 3 could be next in line to receive the 3D treatment.
Apparently Foxconn, the manufacturer of the iPad has already leaked Apple's interest in a 3D tablet to industry sources talking to RCR Wireless. The rumor is corroborated by a mysterious female Hollywood insider who states, "The fact that the iPad 3 is 3D is a dead cert." She goes on to explain that film studios are in a frenzy trying to keep up with the 3D media wave and are looking to get a piece of the iPad 3D action. After all, an iPad 3D would be useless without 3D content to watch on the tablet.
So there you have it, the iPad 3D is certain according to this rumor. Question is whether or not Apple plans to release an iPad with 3D capabilities by the time the next product refresh rolls around. So far, we've come to expect a new iPad design every spring. DigiTimes reports that Apple remains at an early stage in designing the iPad 3 and plans to use an AMOLED display. This in itself would be a big change from the current IPS LCD display found in the iPad and iPad 2.