Wizards of the Coast's follow-up to Magic 2014 is now available for the iPad. The new collectible card game not only features new cards, but players are now allowed to build their own decks instead of being forced to add cards to an already crafted starter set.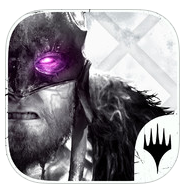 Magic 2015 – Duels of the Planeswalkers features a detailed tutorial for new players, new "challenging" opponents from the Multiverse and multi-player mode. The app is free to download from the App Store, but booster packs cost $1.99 to expand your deck. The game only supports the iPad and it is recommended for the iPad 3 or later.
The game is also now available for pre-order through Steam starting at $9.99. You can also pre-order the Magic 2015: Special Edition for $19.99 or the Complete Bundle for $34.99. The Steam version will be available on July 16, 2014.
The Special Edition includes a soundtrack, desktop wallpapers, and an eBook Theros: Godsend, Part 1 in PDF format.
The Complete Bundle includes all the Special Edition content mentioned above, plus 300 foil stickers and the following bonus cards:
Innistrad Card Collection
Theros Card Collection
Ravnica Card Collection
Shandalar Card Collection
Zendikar Card Collection
Game Description
Hunt bigger game on a bold new adventure with Magic 2015—Duels of the Planeswalkers! Command powerful creatures and wield devastating spells to defeat your opponents in this epic game of strategy.

Hone your skills as you battle your way across the planes of the Multiverse. Beware though, Planeswalker. Your biggest danger lies ahead. Garruk Wildspeaker, the greatest hunter known, has fallen under the curse of the Chain Veil. He now mercilessly stalks his own kind. Find him and stop him ... before he finds you!