The developers behind the hit PC game Worms are back with yet another simple, but addictive, title for iOS devices called (R)evolve. The game is now available for free on the App Store. In (R)evolve, players must spin a planet to protect its evolving life from a constant bombardment of meteorites.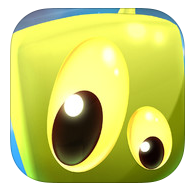 Life on the tiny alien planet begins with one seed and eventually develops over time as you survive each wave. For example, your seed will grow into little person who eventually invents defenses against the meteorites. (R)evolve is the perfect game for people who enjoy simple but challenging games like Flappy Bird.
The game was prototyped in just 48 hours, earning its developers Team17, first place in 2014's Great British Game Jam. (R)evolve is free to download, but it is supported by ads. It requires iOS 6.0 or later and it is compatible with all iOS devices. It is also one for the few iOS games that may be better suited for the iPhone instead of the iPad due to its two-handed controls.