The word "mini" greatly differs when it comes to Android and iOS devices these days. HTC recently announced the 4.3-inch HTC One Mini. The new handset is slightly larger than the iPhone 5, but it is also smaller than the now standard 5-inch Android smartphone. Samsung has also released a 4.3-inch "mini" version of its popular Galaxy S4. Both the HTC One and GS4 mini devices make Apple's largest iPhone seem small in comparison. So it makes sense that Apple is exploring iPhone prototypes larger than 4-inches. However, Apple is also mulling over larger iPad prototypes. The Cupertino, California company has asked its suppliers in Asia for "screen designs for a new tablet device measuring slightly less than 13 inches," according to the Wall Street Journal.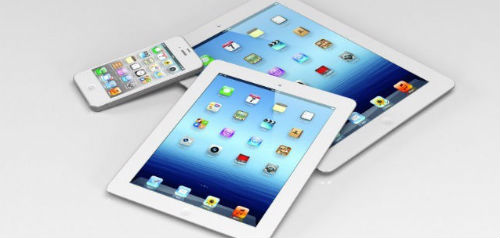 Reuters also reported back in June that Apple was considering introducing a 4.7- and 5.7-inch iPhone in the future. Both the WSJ and Reuters claim Apple is taking a cue from its rival Samsung, who offers a variety of products at different prices and sizes. Samsung has taken an "all things to all people" approach releasing four different versions of its Galaxy S4 handset this year. The South Korean company is also launching 7-, 8- and 10.1-inch versions of its Galaxy Tab 3 later this month.
Even if the recent supply chains rumors are accurate, and Apple is testing larger devices, it doesn't necessarily mean we will ever see a 12-inch iPad. Apple is always trying out different specs and ideas during its development process. However, with the demand for larger smartphones on the rise, it wouldn't be surprising if the iPhone received a bump in size in the near future.