Yahoo today updated its fantasy sports app to version 5.10. The update added the ability to edit team names, view league settings and see players news when drafting. The iPad app also received a news stream with "shareable articles". Other improvements include a faster way to renew your league, benched players added to the matchups screen and other bug fixes.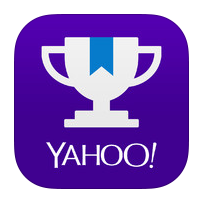 The Yahoo Fantasy app allows fantasy sports managers to create and manage teams for all four major sports. Of course the main focus of the app right now is football, since the 2014/15 season is only a few weeks away. The app is a great way for players who compete in a Yahoo league to manage and draft their teams while on the go.
The Yahoo Fantasy Football, Baseball, Basketball, and Hockey (full name) is available for free on the App Store. It supports all devices running iOS 6.0 or later. Here's a list of its current features:
• Manage your fantasy roster, pick up waiver players, and make trades right from the app.
• Draft your team from your iPhone, iPod Touch, or iPad and participate in mock drafts.
• Get breaking player news based on your team with instant scoring updates.
• Set your lineup with expert analysis from Rotoworld and Yahoo fantasy experts.
• Check matchups regularly to scope out your competition.
• Use message boards to talk smack with other managers.
• Switch between sports and leagues to manage your teams all year round.
• Check league performance to see who's crushing it this week.
Several popular fantasy football apps, such as the official NFL and ESPN apps, have been updated for the upcoming season. You can see a few examples of useful cheat sheets and draft kits for iOS devices here.