Apple's MFi game controller support in iOS 7 allows third party developers to create external gamepads that support the iPad and iPhone. This should have opened many doors for mobile gaming on Apple devices, but unfortunately, most of the MFi game controllers on the market are too expensive. Not to mention, there are only a few that support both the iPad and iPhone, and most require a Lightning connection for them to work. This is why the jailbreak tweak Controllers for All was such a welcome addition to Cydia.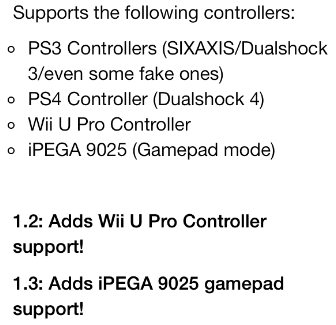 Controllers for All allows iOS gamers to use console controllers, such as the DualShock 4, to play games on their jailbroken devices. The tweak originally only supported Sony PlayStation controllers, but as promised, it has now been updated with Wii U and iPEGA 9025 support. The tweak works with all iOS 7 devices and is only a $1.99. That is a lot cheaper than shelling out $60 to $100 for a MFi-enabled gamepad from a third party developer.
Controllers for All is available now through the modmyi repo on Cydia. It works with any game that features MFi support, and it only requires a one time setup using your computer. You can learn how to pair Controllers for All with your iOS device here.
The developer Ori Kadosh also promises that more controller support is in the works.