Zagg's Folio keyboard case and tablet screen protector the invisibleSHIELD are now available for the iPad Air. The Bluetooth enabled keyboard matches the thinner and lighter form factor of Apple's new tablet, and it features backlit keys, special function keys and up to three months of battery usage between charges. The Folio case also protects your iPad from damage and offers over 130° of viewing angles for reading, watching videos or working. The ZAGGkeys Folio keyboard case is available now in black for $99 at Zagg.com.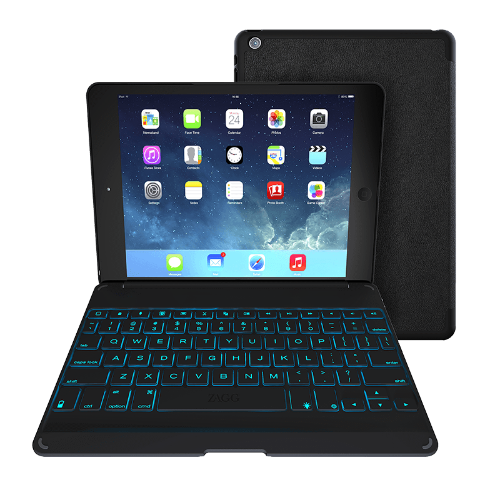 Zagg's invisibleSHIELD screen protector is a popular choice among iOS users. It is a self-healing, military-grade film that protects your device's screen from scratches and smudges. The invisibleSHIELD for the iPad Air is available as a $29.99 basic model, a $34.99 smudge proof model and as a $34.99 HD model.
The Original invisibleSHIELD offers basic protection from display damage. The Smudge Proof model also protects your device while reducing the appearance of fingerprints. The HD model does all of the above, but it also features advanced clarity to compliment the iPad Air's Retina display. You can compare the invisibleSHIELD models at Zagg.com.
Tech Specs: Folio for iPad Air
Length: 6.82 in (173.2 mm)
Width: 9.55 in (242.6 mm)
Depth: 0.697 in (17.7 mm) closed with iPad
Depth: 0.299 in (7.6 mm) keyboard only
Weight: 18.87 oz (535 grams)
Battery Type: Bluetooth keyboard uses a 950 mAh rechargeable lithium polymer battery.
Battery Duration: Battery will last several months of normal use without charging.