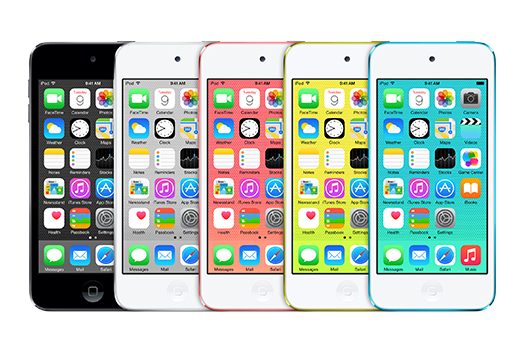 The mostly forgotten iPod touch may get its first refresh since 2012. A "source familiar with Apple's future product plans" told AppleInsider that the iPhone maker will release a new iPod touch model later this year. The source did not indicate if the new iPod would receive a larger screen like the iPhone 6 models, but they did mention that Apple may decide to let it remain at its current size. The fifth-generation iPod touch still features a 4-inch display like the iPhone 5 and the same innards as the iPhone 4s.
While it may seem like the iPod touch is a dying device, especially with the release of the Apple Watch only 1 day away, it could fit into Apple's plans to revive its dwindling iTunes song downloads. Apple has already released the first beta of its redesigned Music app in iOS 8.4, and the company is expected to announce its revamped streaming service under the Beats label at the Worldwide Developers Conference in June.
If the rumor is true, the new iPod will most likely be powered by Apple's A6 processor, and it could receive a bump in camera resolution and storage capacity. All the current iPhone models sport an 8-megapixel iSight camera and the iPhone 6 models are available in 128GB. The fifth-generation iPod touch still ships with the older 5-megapixel iSight camera andit is only available in 16, 32 and 64 gigabytes. More gigabytes would mean more room for users to download and store more songs.
It is unlikely that the iPod touch will gain any premium features like Touch ID and NFC, but anything is possible.