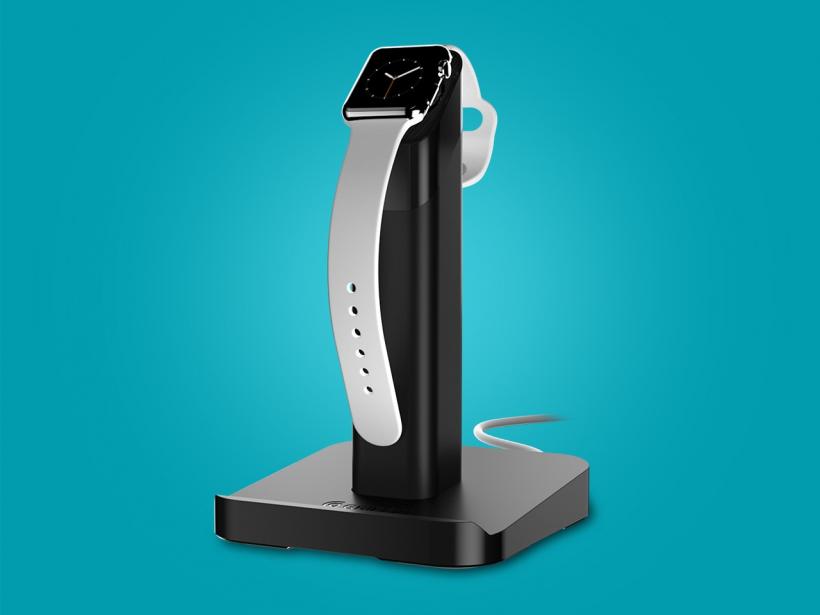 Cases are normally a big deal when a new iPhone or iPad is released, especially when they feature a new form factor, but who needs a case for a watch? Today we are going to look at some third-party stands and charging docks that are currently available for Apple's wearable device. This is just a look at what Apple Watch accessories are available (or coming soon) on launch day, and not in anyway a recommendation.
If you're looking for an Apple Watch case or screen protector, you can check out this list of Apple Watch cases.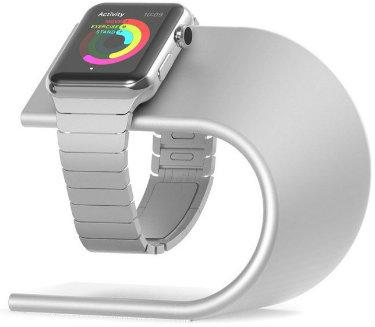 A watch stand is really just a place to hang your jewelry while it's not in use, but with the Apple Watch you will want to charge your device while its just hanging around. The Nomad stand not only gives you a simple place to store your Watch, but it also allows you to charge your Watch in style. The stand has a sleek, elegant look with its precision machined aluminum and cable routing port that hides your charging cable. The Nomad Apple Watch stand is available for $59.99 at hellonomad.com.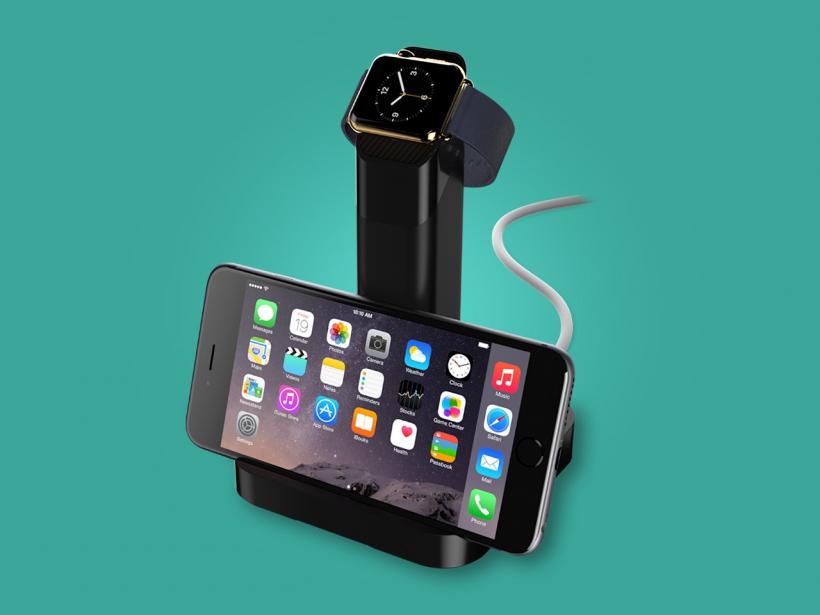 Griffin has been creating dependable iPhone and iPad accessories for a few years, so it is safe to assume that their upcoming Watch products will be no different. The WatchStand from Griffin is a tower that displays and easily charges your Watch. The stand not only holds your Apple Watch, but it gives your a place to store your iPhone too. It's not as pretty as the Nomad stand, but it is only $30, compared to $60.
The Griffin WatchStand is not yet available for pre-order but you can sign up for availability updates at griffintechnology.com
.
Navitech Wood Oak Charging Dock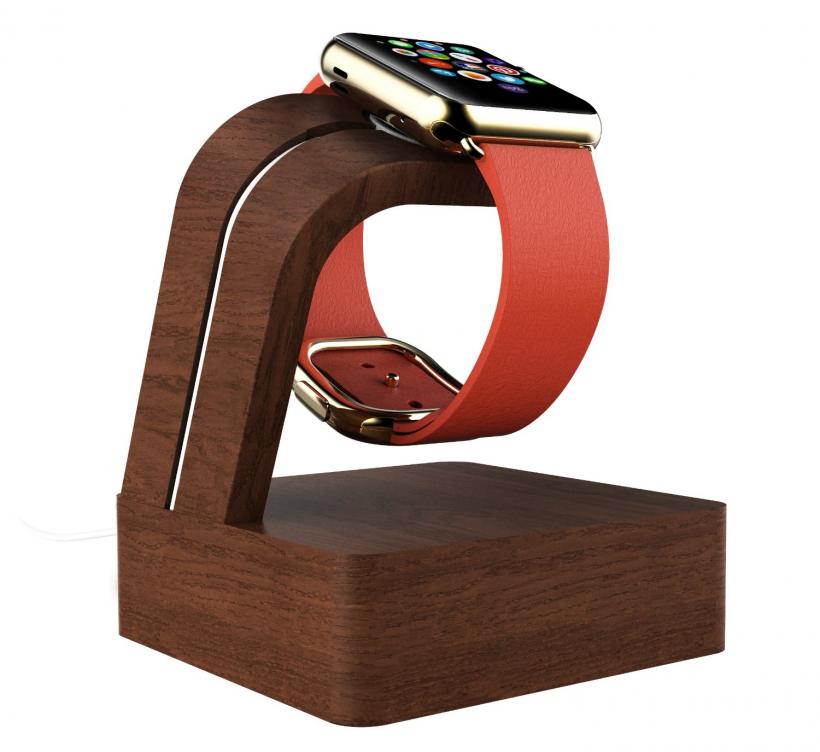 Amazon.com
has a few Apple Watch accessories listed, but most of them are cheap screen protectors and bumpers from Spigen. There are also a couple of replacement bands, like the ULAK Genuine Leather and Canvas Wristbands ($16 and $14), but customer reviews say you should avoid these.
The Navitech Wood Oak Charging Dock is also available on Amazon.com, but the customer reviews are dodgy because it looks like they replaced an old iPad cover listing with a new product. The dock is also available on other online retailers like Buy.com.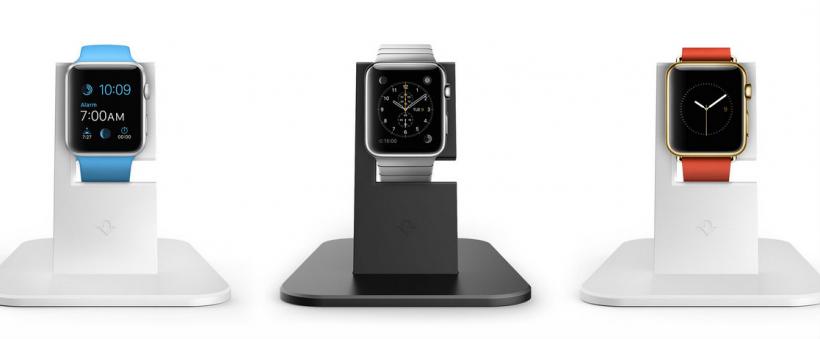 Another minimalist stand in the $50 range is the HiRise from Twelve South. The stand works with any size Watch, band and it easily integrates your magnetic charging cable so you can charge your device. The HiRise will begin shipping in May for $49.99.
Luxury Pocket Stand for Apple Watch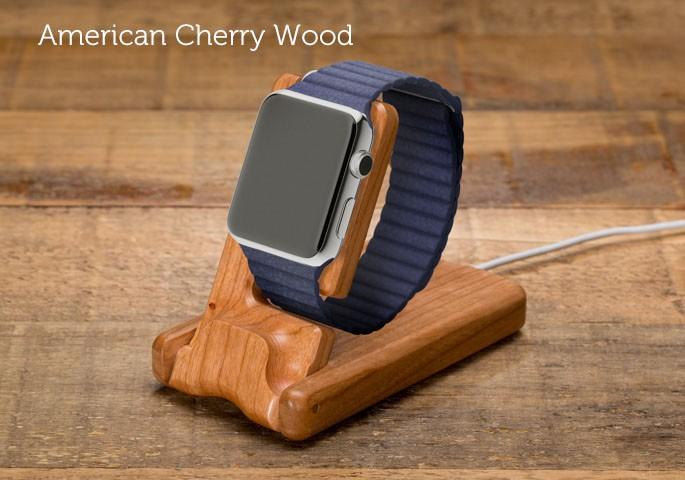 Pad & Quill has a handmade "luxury" Apple Watch stand for sale. The stand is created from a single piece of American Cherry or African Mahogany hardwood. It is designed to hold the Apple Watch magnetic charger and hide the charging cable. It also collapses so you can take it with you. This luxury item is only $70 at padandquill.com.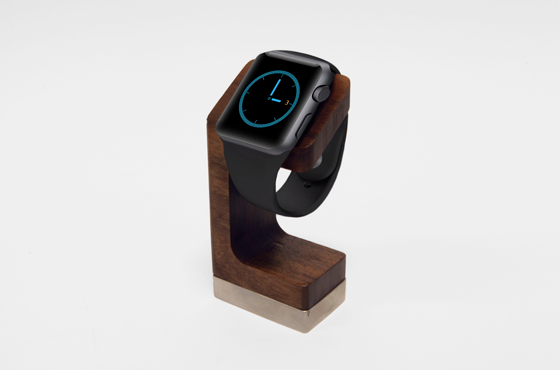 The most expensive stand we have found comes from DODOcase.com, but DODO is currently selling its first Apple Watch product at a special pre-order price of $81.95 (MSRP $99.95). The DODO stand is lot like the Pad & Quill stand, it is made from California American Walnut, and it features a wire routing system to hide ugly cables. The stand also includes a travel mode, solid steel base and it is handcrafted in San Francisco.
You can pre-order the DODO Apple Watch stand from dodocase.com.
Additional Apple Watch stands on Amazon.com include a Spigen Charging Dock ($20), a weird looking dock from iProtectYouri ($50) and your basic $15 stands.