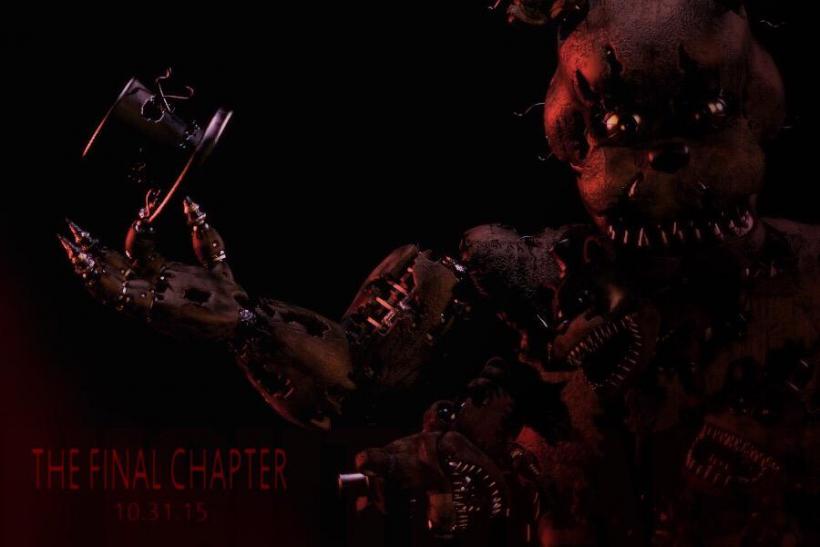 The popular horror video game Five Nights at Freddy's is not only being tunred into a movie, but today Scott Cawthon posted a teaser image for a fourth game in the franchise. Cawthon's official website lists October 31, 2015 as the release date for "The Final Chapter," but doesn't mention if that date is for the desktop or mobile version of the game.
The previous three titles were all released as desktop versions before coming to iOS and Android, but now that Hollywood is involved all versions of the fourth game may drop at once.
Five Nights at Freddy's has become a huge hit on Steam, the Apple App Store, Google Play and even YouTube, spawning all kinds of reaction and gameplay videos. The game follows the story of a haunted restaurant and arcade called Freddy Fazbear's Pizza. In the first two games players take on the role of a security guard who must survive the night while dangerous animatronic characters roam around in the dark. The third game takes the legend of Five Nights at Freddy's to a haunted horror attraction 30 years after Freddy Fazbear's Pizza has closed.
The first three games are currently available on the App Store for $2.99 each. They support all devices running iOS 5.1 or later.
Download Five Nights at Freddy's
Download Five Nights at Freddy's 2
Download Five Nights at Freddy's 3
The Five Nights at Freddy's is being produced by Roy Lee of Vertigo Entertainment, Seth Grahame-Smith (Pride and Prejudice and Zombies) and David Katzenberg of KatzSmith Productions.