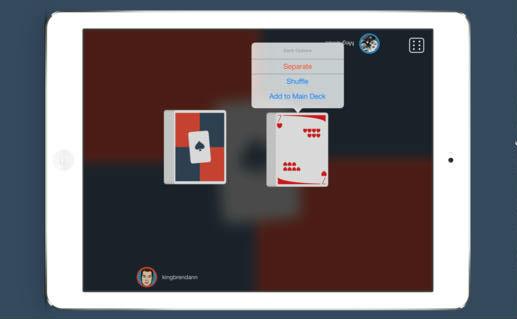 Most iPad owners wouldn't be caught dead on vacation without their iPad because it replaces so many things that you normally have to drag along, such as maps, books and even a deck of cards. That's why The Card Table is such a neat app. Not only does the app transform your iPad into a virtual card table, but it also allows anyone to use their iPhone as a compatible deck of cards.
Players can use Card Table to play any card game involving a basic deck of cards. The app allows anyone to keep their hands on their iPhone, iPad, or iPod touch and pass the cards between devices using Bluetooth or a Wi-Fi connection. This means the app can virtually be used anywhere such as airplanes, hotels, and even on long road trips. It also makes a great option for family game night or parties.
What makes Card Table unique is the ability to set your own rules. Users can tell the app how many cards to deal, how to keep score and they can even select how many Jokers they want to use. The app will also save your favorite game configurations so you don't have to set them every time you play.
The Card Table is available for $1.99 on the App Store. It includes the option to purchase additional card backs and table designs. The app supports all devices running iOS 7.0 or later.