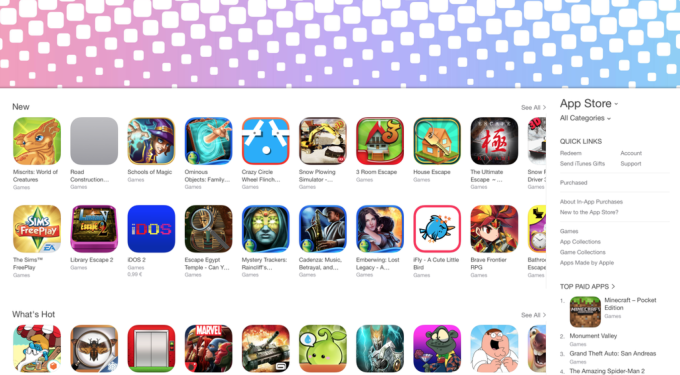 The new trend seems to be human curated lists for music streaming apps, and now Apple is bringing the same idea to the App Store. Apple is in talks to sign Drake, Pharrell Williams and other big name stars to be guest DJs for its revamped iTunes music service, according to the New York Post. The report also claims that Apple is in deep negotiations for its new $10 a month streaming service which will reportedly borrow the best features from Pandora, Spotify and YouTube. Apple plans to offer not only music, but videos, artists' pages, and a "YouTube-style post-it-yourself destination called Apple Connect" through the new service. This is in addition to the revamped iTunes Radio and standalone Beats Music subscription service expected to be announced at WWDC 2015.
TechCrunch has also noticed that Apple has ditched algorithm generated sections in the App Store for editor curated lists like "Best New Games" and "All Time Greats". Apple began tweaking the App Store earlier this year by adding a Get button to select "Free" games, and by offering a Pay Once & Play section highlighting some of the most noteworthy premium titles available. Apple has recently added more editorially created lists on the subcategory pages in Games, but it has also kept algorithm curated sections like "More Games You Might Like".
The changes are to stop what Apple and gamers consider the "race to the bottom," where developers flood the App Store with so-called "Free" games full of micro-transactions. Instead of being rewarded with downloads for releasing a low-quality game that takes advantage of the App Store algorithm, Apple is now rewarding developers who release great titles by highlighting them in these new editor curated sections. This is good news for gamers who don't mind spending a few dollars on decent games, and bad news for developers who prefer to release cheap freemium clones.
Perhaps Apple will take a page from its music streaming offerings and begin allowing guest curators on the App Store, or offer some kind of user curator system like Steam. This would ensure that more games and independent developers get a shot at being noticed. It would also allow for viral sensations like Flappy Bird to continue to exist, while helping kill off the thousands of clones that always follow in the wake.