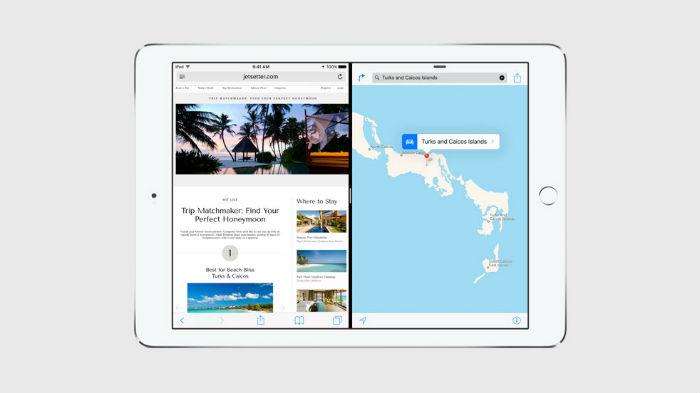 Apple made a lot of big announcments at its WWDC 2015 keynote on Monday. The highlights included the unveiling of OS X El Capitan, the debut of Apple Music and of course a preview of iOS 9. The new OS doesn't include many new features, but it does bring a lot of imporvements such as a smarter Siri, better Spotlight search and enhanced Apple Pay. As expected, iOS 9 will add true multitasking to the iPad and a better typing experince thanks to an updated QuickType keyboard.
iPad owners can use the multitasking feature in three ways. There's a Split View option that allows users to have two apps open at the same time, and a Slide Over option that allows you to perform other tasks, such as using Safari, without having to close an app. The Picture in Picture feature allows users to use FaceTime or watch a video while using an app. This is a real game changer for the iPad, and a heavily requested feature that is long overdo.
Unfortunately Split View only works on the iPad Air 2, and Slide Over is only supported by the iPad Air and iPad Air 2, and second- and third-generation iPad mini.
Apple has also added a built-in Shortcut Bar, new shortcuts and easier text selection, which is a lot like the jailbreak SwipeSelection, to the iPad.
The Shortcut Bar allows users to quickly bold, italicize, or underline text, and the new shortcut options make it easier to switch apps and search with a wireless keyboard. Users will also be able to slide two fingers anywhere on their display to select and edit text.
iOS 9 is expected to launch alongside the iPhone 6s sometime mid-September 2015.
You can check out all the announced iOS 9 improvments via Apple's iOS 9 preview.