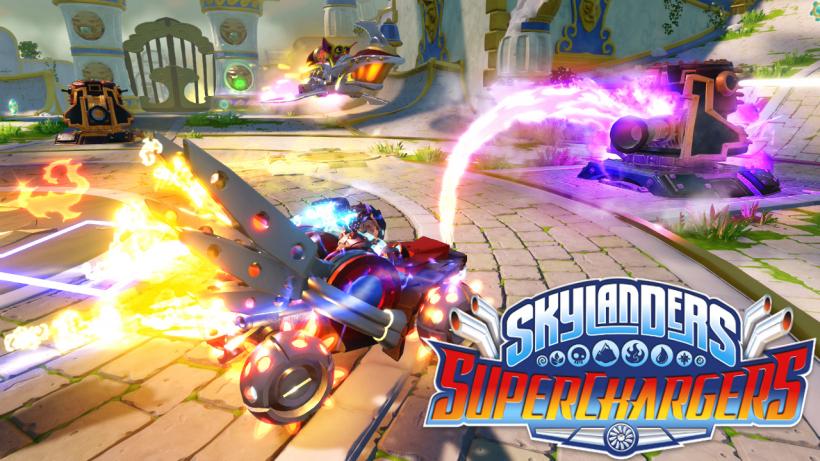 Skylanders SuperChargers starter packs for the iPad, PlayStation 3/4, Xbox 360/One, Wii, Wii U and Nintendo 3DS are available for pre-order. Each starter pack includes 1 copy of Skylanders SuperCharagers the game, 2 characters, 1 vehicle, 1 Portal of Power and a collectible poster. The iPad version also ships with a wireless Skylanders controller. All starter packs are available for $75 on Amazon.com or Gamestop.com.
SuperChargers is a bit different than its predecessors in that it features land, air and sea vehicles. Activision plans to release at least 20 vehicles and 20 characters separately. The cars will retail for $15, and the individual characters will set you back $13 each. Players will be able to use these NFC-equipped toys and vehicles to interact with the Skylanders video game. For example, players will be able to pair one character with any land, air or sea vehicle to complete different levels within the game, and that vehicle will gain unique upgrades based on its driver's special abilities.
Past Skylanders characters will also work with the SuperChargers game.
Here's the official Skylanders SuperChargers description:
"Skylands is in peril! Kaos has unleashed his most evil weapon yet - the Doomstation of Ultimate Doomstruction. With all of Skylands on the verge of collapse, a special team called the SuperChargers has been assembled to pilot an unstoppable fleet of incredible vehicles. Now you and the SuperChargers must embark on epic adventures over land, under sea, and through the sky to stop Kaos and save Skylands!"
Skylanders SuperChargers will begin shipping on September 20, 2015. You can sign up for SuperChargers product (download the free app) alerts here.