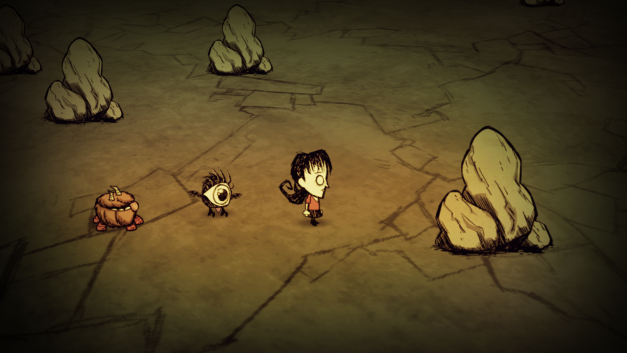 Klei Entertainment announced that its wilderness survival game, Don't Starve, is coming to the iPad on July 9. Don't Starve: Pocket Edition will be available for $4.99 and support the iPad 3 and up, and iPad mini 2/3 running iOS 7.0 or later. The game will feature everything that's included in the Windows and OS X versions of the game, including the the expansion "The Reign of Giants".
Don't Starve was released to Steam for Windows, OS X, and Linux in 2013, before being ported to the PlayStation 4 in 2014. The game follows Wilson, a Scientist who has been captured by a demon named, Maxwell. Players must keep Wilson alive as he navigates a dangerous wilderness and fends off various monsters. To do this players must explore the randomly generated open world while collecting food, firewood, and other items to survive. The goal of the game is to see how long you can survive.
The Pocket Edition of the game will feature touch-based controls that allow you to move, craft and fight enemies. It is unknown if the game will have MFi controller support, and no iPhone version has been announced at this time.
If you don't want to wait for the Pocket Edition, Don't Starve is available on Steam and PlayStation Store starting at $14.99. You can learn more about the game and purchase Don't Starve merchandie by visiting the official microsite.