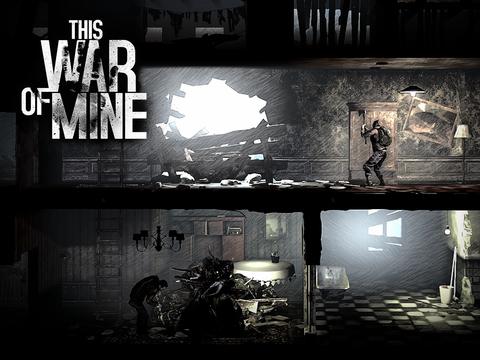 The survival game This War of Mine is now available on the App Store and Google Play for tablet devices. The game is presented from the perspective of civilians who are trying to survive during a war. Players control a group civilian survivors who have taken residence in a dilapidated shelter in a besieged city. The goal of the game is to keep the civilians alive by managing their health, hunger and mood levels.
During the day players must craft tools, cook food, heal survivors while snipers keep them pinned inside their shelter. At night players can scavenge for more supplies while trying to avoid hostile scavengers also looking for resources. Players can also choose help or rob other NPC survivors, build a radio to stay updated on weather and the ongoing war and upgrade their shelter to help with their survival. The game ends when a ceasefire is called during a randomized amount of time. The game features several different endings based on the player's actions.
This War of Mine is available on the App Store for $9.99 for a limited time. It will return to $14.99 in one week when the launch sale ends. It supports the iPad running iOS 7.0 later. The game is also available on Steam for Microsoft Windows, OS X and Linux, and on Google Play for Android tablets.
This War of Mine is inspired by the real-life events of the 1992–96 Siege of Sarajevo during the Bosnian War. You can learn more about the game by visiting the official website or following along on Facebook or Twitter.