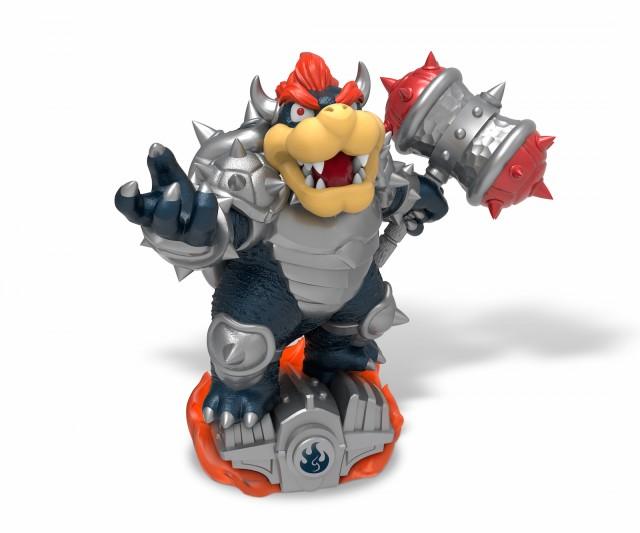 Nintendo announced at its June E3 press conference that it would be teaming up with Activision to release Bowser and Donkey Kong action figures that would work with both Skylanders Superchargers and upcoming Nintendo amiibo-enabled games. On Monday, Toys R Us tweeted that the Dark Edition Bowser Supercharger/amiibo would be their exclusive and go on sale this week. The Dark Edition Bowser will be available at Toys R Us retail locations and online at toysrus.com.
The Dark Turbo Charge Donkey Kong and Dark Barrel Blaster will only be available with the purchase of a Wii U Dark Edition Starter Pack. Amazon is also currently accepting pre-orders for the Skylanders SuperChargers Dark Edition Starter Packs for the PlayStation 4 and Xbox One. The Dark Edition is not available for the iPad, Wii, PlayStation 3, Xbox 360 or Nintendo 3DS. The Dark Edition is $99, compared to the $74 basic Starter Pack.
UPDATE: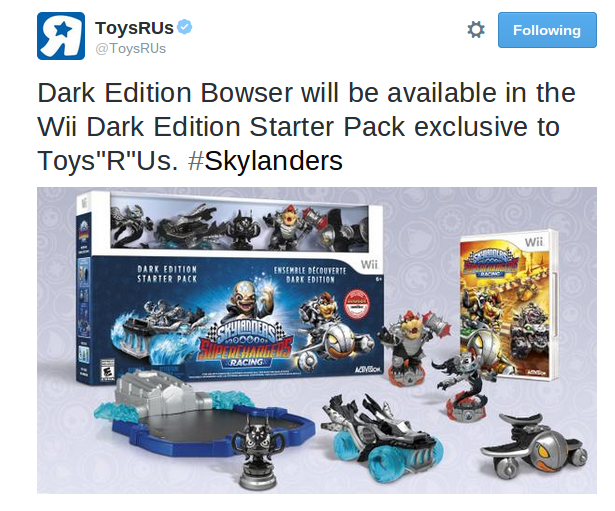 The Bowser and Donkey Kong figures are expected to start shipping the same day as Skylanders Superchargers on September 20, 2015.
You can sign up for free Skylanders Superchargers alerts here, and see a complete list of amiibo release dates here.