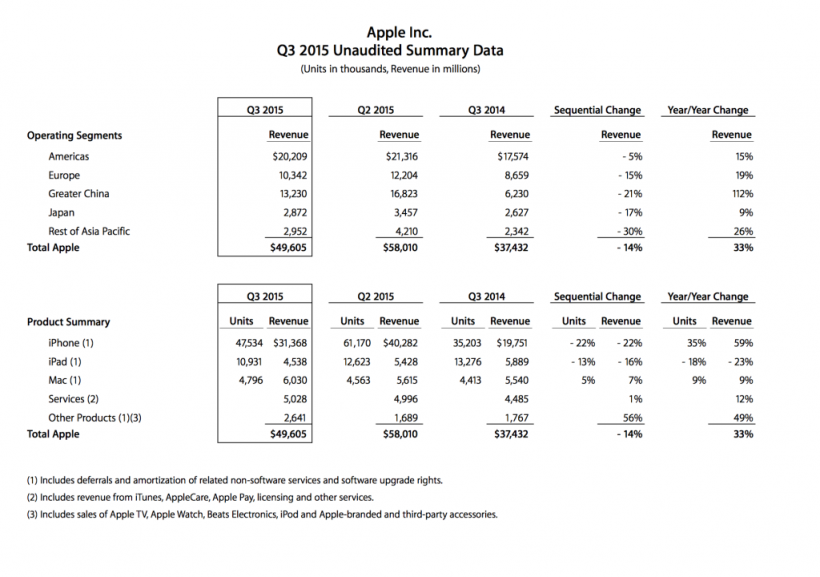 Apple today posted its third quarter earnings report for 2015. Once again iPad sales have taken a tumble with Apple moving 10.9 million units for its fiscal 2015 third quarter which ended on June 27, 2015. The number of iPad shipments is down from the 13.2 million units Apple sold in the same quarter of 2014. The iPhone-maker also announced another " all-time record revenue" of $49.6 billion, with a quarterly net profit of $10.7 billion. The press release attributes the record revenue to successful iPhone and Mac sales, plus a "successful launch of Apple Watch".
"We had an amazing quarter, with iPhone revenue up 59 percent over last year, strong sales of Mac, all-time record revenue from services, driven by the App Store, and a great start for Apple Watch," said Tim Cook, Apple's CEO. "The excitement for Apple Music has been incredible, and we're looking forward to releasing iOS 9, OS X El Capitan and watchOS 2 to customers in the fall.".
Apple did not report Apple Watch sales, but noted that they sold 47.5 million iPhones, versus 35.2 million, and 4.8 million Mac units, versus 4.4 million from the same time last year.
We should know more when Cook finishes his earnings call with investors. You can listen to a live stream of the call on the Apple Events page.