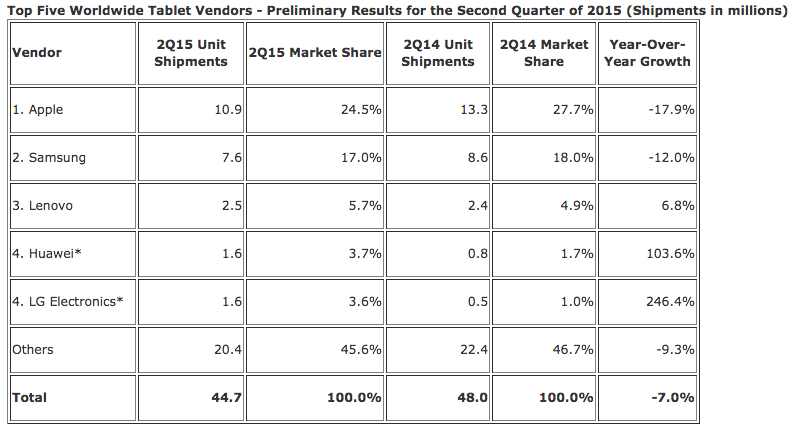 It's no secret that the global tablet market has been in decline for several years now, not because the technology has become obsolete, but because larger smartphones are drawing away potential buyers and consumers are waiting much longer between upgrades as compared to phones, which are often upgraded every two years or sooner. Apple has always maintained the dominant position in the market, but recent analysis by IDC shows that it has lost some ground to competitors over the past year.
According to the numbers, Apple shipped 10.9 million iPads in 2Q15, compared to 13.3 million units in last year's second quarter, resulting in a 17.9% year-over-year decline. The company's market share fell to 24.5% from 27.7%. Apple's biggest competitor in the market, Samsung, also lost market share, dropping to 17% from 18%. Even the "Others" category dropped a point. Chinese companies Lenovo and Huawei and South Korean giant, LG, filled the void, gaining 0.8%, 2% and 1.6% respectively. Huawei and LG's shipments were up an impressive 104% and 246% year-over-year, respectively. The market as a whole fell 7%, shipping a total of 44.7 million units in the second quarter.
Apple still has the largest market share and, according to IDC analyst Jitesh Ubrani, it could grow in the near future. Ubrani believes that with "newer form factors like 2-in-1s, and added productivity-enabling features like those highlighted in iOS9, vendors should be able to bring new vitality to a market that has lost its momentum." It is also noteworthy that Apple has a growing enterprise venture with IBM known as IBM MobileFirst for iOS that should help iPad sales as well.