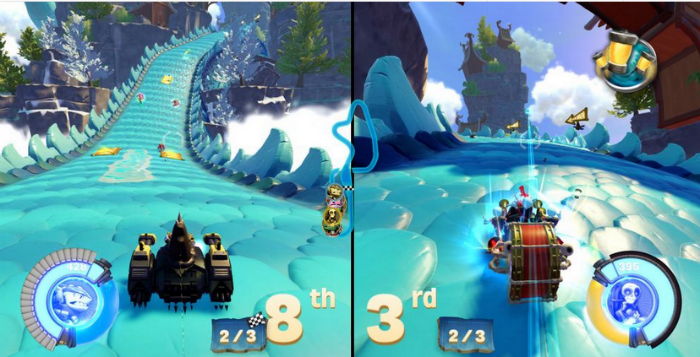 Activision today revealed that Skylanders Superchargers will include a new racing mode and online play for the first time in franchise history. The racing aspect of the game comes as no surprise since it is already known that the Superchargers come with an "unstoppable fleet of incredible vehicles," but what wasn't known is that players will be able to play both the Adventure and the Racing modes online with other players. The Superchargers game modes will include:
Single-player Adventure Mode
Online and local co-operative Adventure Mode
Local 2-player head-to-head racing in split screen
Online competitive racing with up to 4 players
All Superchargers starter packs will ship with six tracks, two for Land, Sea and Sky, according to the press release. Players will also be able to purchase additional Racing Action Packs which will include a SuperCharger, its signature vehicle and a villain trophy. The villain trophies can be used to unlock additional tracks and game modes, such as SuperVillain Cup, Boss Pursuit and Mirror Cup. The additional villain trophy tracks also include 12 boss villains that players can defeat to unlock as playable characters. Polygon who got an early look at the racing mode in New York City described it as a "streamlined version of Mario Kart."
Skylanders Superchargers will be available for the iPad, Xbox One, Xbox 360, PlayStation 4, PlayStation 3 system and Nintendo's Wii U on September 20. The iPad Starter Pack is available now for pre-order for $74.96.
All Starter Packs include: A copy Skylanders Superchargers the game, a wireless portal and gameplay controller, 2 Skylanders Superchargers characters, 1 Skylanders Superchargers vehicle and 1 poster.