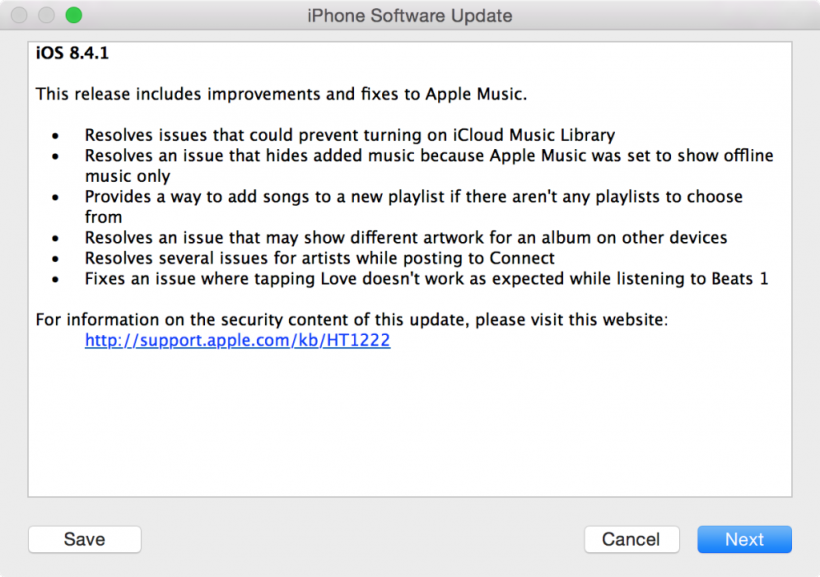 Apple today released iOS 8.4.1 to fix several bugs affecting Apple Music, but the update also breaks the TaiG iOS 8.4 jailbreak, according to the security notes. As you can see from the security update, Apple has patched several exploits used by the TaiG Jailbreak Team to release their iOS 8.4 jailbreak tool. iPad, iPhone and iPod touch users who want their devices to remain jailbroken should not upgrade to iOS 8.4.1.
Everyone else can update their devices to iOS 8.4.1 by navigating to Settings > General > Software Update. You can also update your device by connecting it to a computer and installing iOS 8.4.1 through iTunes.
Here are the release notes for iOS 8.4.1:
Resolves issues that could prevent turning on iCloud Music Library
Resolves an issue that hides added music because Apple Music was set to show offline music only
Provides a way to add songs to a new playlist if there aren't any playlists to choose from
Resolves an issue that may show different artwork for an album on other devices
Resolves several issues for artists while posting to Connect
Fixes an issue where tapping Love doesn't work as expected while listening to Beats 1
This will most likely be the final iOS 8.4 update before Apple releases iOS 9.0 in September. Apple recently released iOS 9 Beta 5 to developers and its third public beta the the general public.
iOS 9.0 is expected to launch in September along with the iPhone 6s. Recent rumors have suggested that Apple is planning to unveil its next-generation iPhone on September 9, 2015. The rumored iPhone 6s is expected to feature a Force Touch display, improved camera, and faster processor, according to Buzzfeed. Apple may also unveil its next-generation iPads at the event.