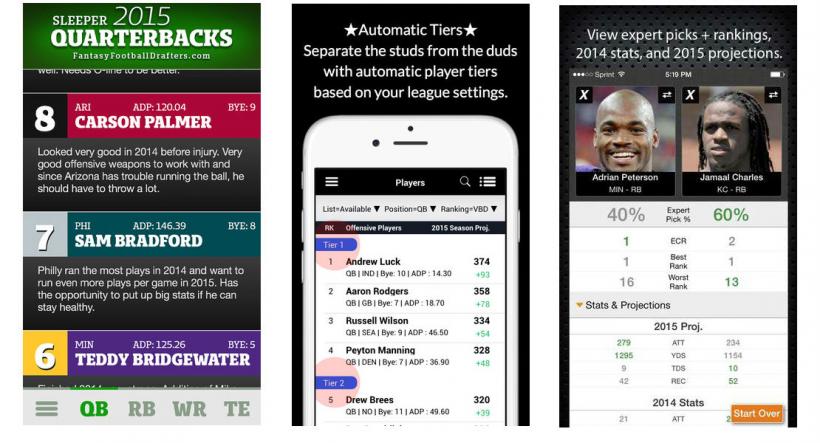 There has been an explosion of fantasy football apps on the Apple App Store this year, and rightfully so since fantasy sports has become a very lucrative industry. Most apps offer the same cheat sheets, player rankings and selection suggestions based on Value Based Drafting (VBD), but there have been a few new apps created to perform specific tasks. For example, Fantasy Football Sleepers 2015 (Free) helps owners select the best sleeper at each postition. The app lists the top 10 sleepers at each position while listing Average Draft Position (ADP). This is a helpful tool for owners who are in keeper and dynasty leagues and need to draft for the present and future.
Smart fantasy owners always go into their drafts with at least one backup cheat sheet for extra help on tough decisions. FantasyPros Who Do I Draft? (Free) provides side-by-side comparisons of players at the same position and gives suggestions on who will be the best fit for your roster. This app could be a potentially helpful tool when you're faced with deciding on two equally ranked players.
Keeping track of handcuffs and bye weeks are very important when drafting your team and it can separate good owners from great owners. Draft Oracle ($1.99) not only provides all the basic draft kit features, but it also alerts you of any potential handcuffs to your running backs, and when you darfted too many players with the same bye week.
All great owners do their homework before entering their draft and a great way to bone up on your fantasy football knowledge is by reading through RotoWire's Fantasy Football Guide 2015 ($4.99, iPad only). This app is like downloading an old school fantasy football magazine with its in-depth player analysis, top rookie and sleeper rankings, and projected stats. RotoWire also has a 2015 draft kit universal app available for $4.99.
These four apps are a few examples of bonus tools you can use to help you get an edge in your upcoming draft or drafts. Here's a list of well known draft kits that everyone should use for their main cheat sheets.
League Apps Official league apps to update your roster on the go.
- NFL Fantasy Football - Official NFL.com Fantasy Football App (Free)
- ESPN Fantasy Football (Free)
- Yahoo! Fantasy Football & More (Free) App for all Yahoo! fantasy sports
- CBS Sports Fantasy Football, Baseball, Basketball & Hockey (Free)
- MyFantasyLeague Manager 2015 by RotoWire ($2.99)