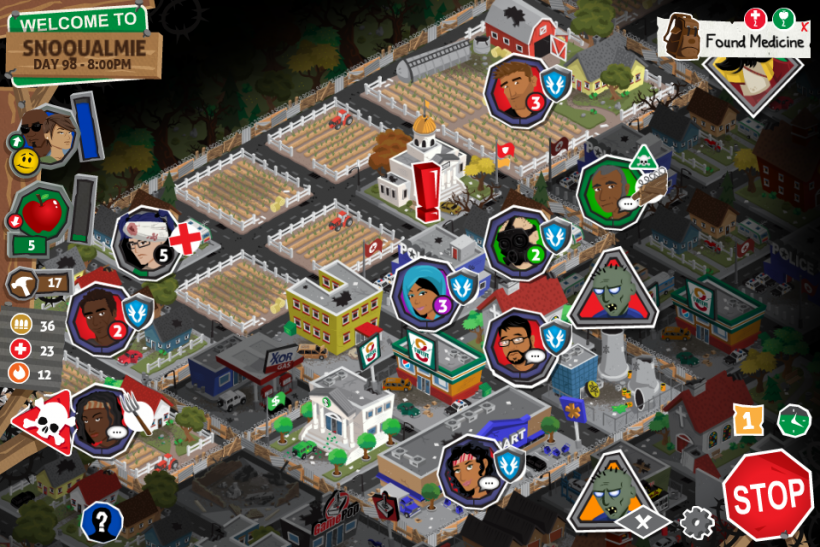 Sarah Northway's Rebuild 3: Gangs of Deadsville had a few hiccups on its way to mobile devices, but it is finally available on the Apple App Store. The third game of the zombie survival series is really just a big upgrade of Rebuild 2 with lots and lots of new features, including a Campaign Mode, more building types, updated graphics and more.
For those who have never played a Rebuild title the object of the game is to rebuild society. You do this by mainly exterminating zombies and reclaiming your city building by building, but doing this while keeping your survivors alive is not that easy. You must scavenge for supplies, fend of zombies hordes and other NPC groups, make tough decisions, keep up morale, and so on. The secret to winning the game is keeping up the right balancing act while reacting to unforeseen issues that seem to keep setting your back. The game features several different possible endings, and all kinds of paths you can take to those endings.
Rebuild is kind of like The Simpsons: Tapped Out and other freemium App Store building titles, but better. In Rebuild you can actually play the game instead of waiting around for timers to expire. The game offers so much to do, no in-app purchases and it has a high replay value. I highly recommend it to fans of resource management games.
Here's a list of the new features found in Rebuild 3:
- 4X style strategy and city (re)building
- Endless replayability with randomized cities and events
- Survivors with individual skills, perks, relationships, and stories
- Rival NPC forts with their own agendas, friendly or otherwise
- Campaign Mode, a journey through cities of increasing size and difficulty
- Strategic fort defense and interactive attacks
- Play in either real-time or turn-based mode
- 5 skills: defense, leadership, scavenging, building, engineering
- 10 resources and one-use items to find or craft
- 30 missions: scavenge for food, kill zombies, farm, fish, trade, bartend...
- 35 node research tree
- 50 building types with unique uses and/or scavengeable resources
- 70 types of equipment to find
- 100 survivor perks: Melee Training, Green Thumb, Light Sleeper...
- 200,000 words of event text - enough to fill two novels
Rebuild 3: Gangs of Deadsville is available on the App Store for $4.99. It supports all devices running iOS 7.0 or later. I tested the beta on the iPhone 4s and it worked great, but the game is more suited for devices with larger screens such as the iPad mini, iPad or iPhone 6 and 6 Plus.