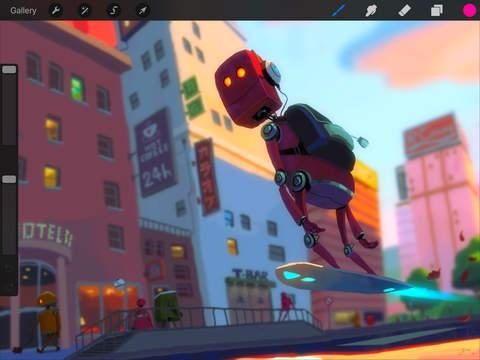 Savage Interactive today updated its sketching app Procreate with iPad Pro and Apple Pencil support. The design app can now support 16K resolution canvases when used on Apple's upcoming 12-inch tablet, and the app will also take advantage of all the advanced features found in the Apple Pencil when the stylus is released sometime this month. The official release notes for version 3.0 of the app lists "predictive touch, coalesced touches, pressure sensitivity" as some of the new features available for the Apple Pencil.
Procreate has also been updated with iOS 9 multitasking support, San Francisco font support new tools Pause and Quickline and more. You can see the complete changelog on the App App Store.
The Procreate app is available for $5.99. It supports all iPad models running iOS 9.1 or later. The sketching and painting app includes 128 different brushes, 8K by 4K resolution on the iPad Air and over 100 new features in version 3.0.
Apple's 12.9-inch iPad Pro is scheduled to launch alongside the Apple Pencil in November. The iPad Pro will be available starting at $799 for the 32GB Wi-Fi model. The Apple Pencil will retail for $99.
You can learn more about the iPad pro here and the Apple Pencil here.