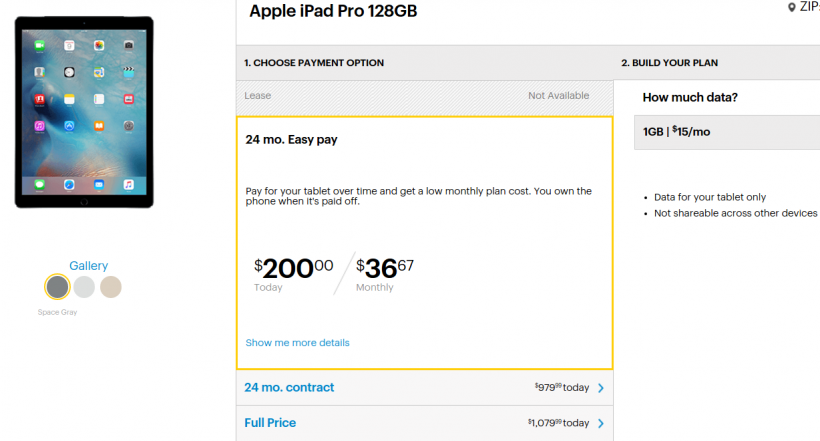 Sprint has rolled out its own iPad Pro pricing plan for buyers who can't afford to pay $1,079 up front. Sprint customers can decide to go with the Sprint Easy Pay plan for $200 down followed by 24 monthly payments of $36.67. This will nab you a 128GB iPad Pro Wi-Fi plus cellular model, which is normally retails for $1,079 from apple.com.
Sprint is also offering the 128GB model at full price or for $979.99 with a two-year data contract.
Available data plans include 1GB for $15 a month or 100MB for $10 a month. These plans are for one tablet only and not shareable across other devices. The iPad Pro does qualify for Sprint's Family Share Packs.
Other carriers such as Verizon Wireless, AT&T and T-Mobile are also offering their own iPad Pro pyament plans. Here's a list of available payment plans:
Verizon Wireless - $0 down w/ 24 monthly payments of $44.99
AT&T - $0 w/ 20 monthly payments of $54
T-Mobile - $199.99 down w/ 24 monthly payment of $36.67
Both AT&T and Version are also offering the iPad Pro for $979.99 with a new two-year contract.