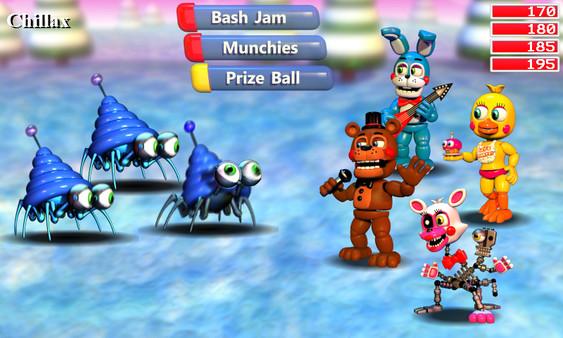 Five Nights at Freddy's creator Scott Cawthon surprised fans again by releasing FNaF World a few weeks early. The RPG, set in the FNaF universe, was originally slated for a February release, but it is now available on Steam. The official game descriptions reads:
"Featuring the entire cast from the Five Nights at Freddy's series, this fantasy RPG will let players control their favorite animatronics in a an epic animated adventure!"
The description goes on to add that there are "40 playable characters, multiple endings, multiple difficulties, and a great soundtrack from artist Leon Riskin." Players can play as Freddy as he leads the rest of the FNaF cast on an adventure to restore peace in the world beneath worlds.
There are some complaints about the look and rushed feeling of the game, but it has a "Very Positive" rating with 366 reviews at the time of this post. Mostly people seem to be reaching FNaF fatigue as Cawthon keeps pumping out games at a rapid pace. FNaF World is the fifth game in the Five Nights At Freddy's franchise.
Cawthon recently released a Five Nights at Freddy's novel, there is a planned movie, plus plush dolls, keychains and more.
It is unknown when FNaF World will come to iOS, but there is a planned mobile release and it should arrive earlier than expected.