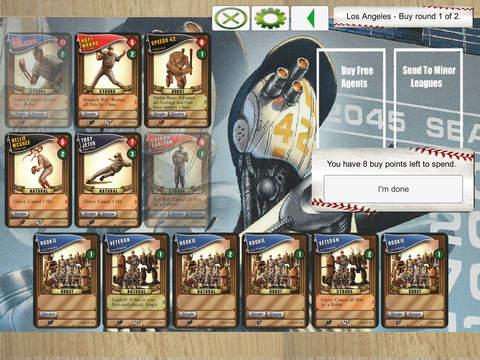 The amount of iPad-only apps released to the App Store has steadily been on a decline. More and more developers seem to be opting for universal releases as the demand for tablets slows and the size and power of the iPhone increases. Even Big Fish Games has started making its weekly hidden object games available on both the iPod touch and iPhone. Big Fish was one of the last developers who regularly made and released games solely for the iPad.
Baseball Highlights 2045 is one of the few iPad-only games released this week. It is based on the Mike Fitzgerald's board / card game released by Eagle-Gryphon Games. As the title suggests, Baseball Highlights takes place in the year 2045 when Football has replaced baseball as America's favorite pastime. In order to revolutionize the classic game, the league started encouraging pitchers to implement bionic arm implants. The super pitchers soon dominated the game and robot hitters were introduced shortly thereafter. Welcome to baseball in the future.
The app combines both front-office strategy and baseball tactics by allowing players to build their team as they play. Players use six cards to simulate quick six-inning baseball games. Each game features both defensive and offensive actions, team building and in-game strategy. Players can play alone in Solitaire mode or against other players in the 2-player "hot seat" option. The iPad version features an interactive Spring Training tutorial, integrated rulebook and artwork from the original game.
Baseball Highlights 2045 is available now on the App Store for $5.99.
Other iPad Releases
Kick the Buddyman: Mad Lab HD (Free) Welcome to the craziest place in the world: Mad Lab. It's a gorgeous place for you to become a brilliant scientist! The most durable rag-doll you've ever seen and carry out practical experiments!
Millie Marotta's Coloring Adventures (Free) Lose yourself in an adventure of color and drawing as we bring the beautiful world of Millie Marotta to iPad, with her rich illustrations of the plant and animal worlds. Take the time to stretch your creative muscles, relax your mind and rediscover the simple pleasures of coloring in.
App developers, please use our Contact form to let us know about your newly released iPad apps and games.