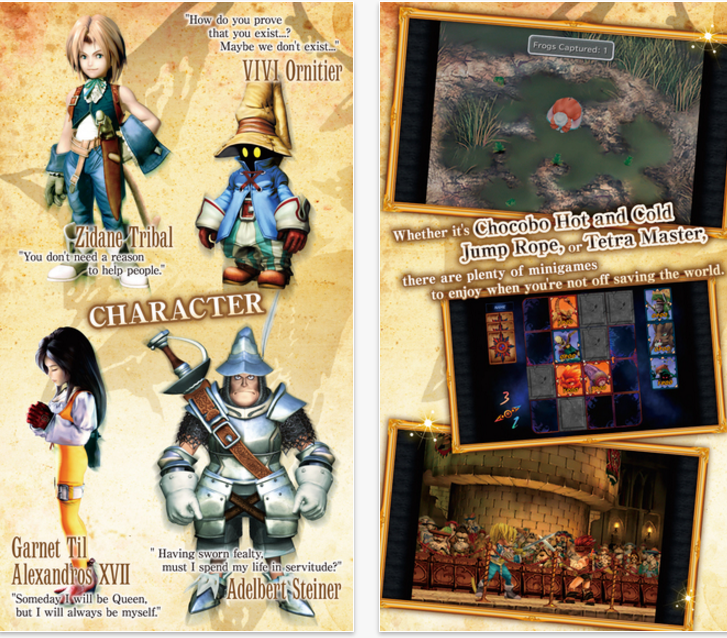 Square Enix has followed up its release of Adventures of Mana to the Apple App Store with the launch of Final Fantasy IX for iOS and Android devices. The ninth-game in the Final Fantasy series follows Princess Garnet, who is captured by Zidane and the Tantalus Theater Troupe. Garnet and her personal guard, Steiner, team up with Zidane and other characters as they embark on an adventure to stop a malevolent force that threatens to destroy their world.
Final Fantasy IX was originally released in 2000, and it was the last Final Fantasy title released for the original Sony PlayStation console. The game was re-released in 2010 for the PlayStation Network before being ported today to iOS and other mobile devices. Final Fantasy IX was the first Final Fantasy title to include the Active Time Event, the moogle-operated mail service Mognet, the mini-card game called Tetra Master and its own unique equipment and skill system. The game uses the same Active Time Battle system as its predecessors and it features an original score by Nobuo Uematsu.
The iOS version features additional achievements, high-definition movies and character models, 7 new game boosters and autosave. Final Fantasy IX is available for $16.99 on the Apple App Store and Google Play. It hasn't hit Steam yet but there is a preview page.
The App Store version supports the iPhone 5s or later, fourth-generation iPad, iPad Air, iPad Air 2, iPad mini 2-4 and sixth-generation iPod touch running iOS 7.0 or later. The official App Store description does not list the iPad Pro as a supported device, which suggests the game is not optimized for the larger tablet.