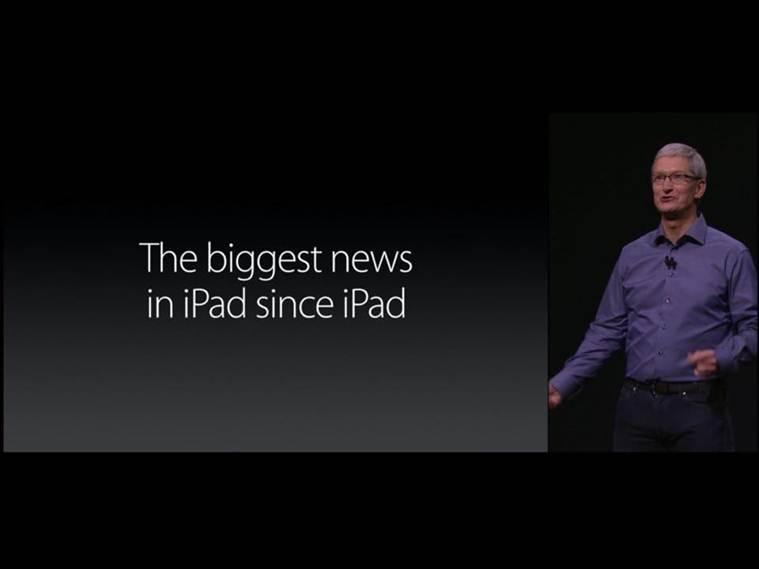 The invitations have been sent for Apple's March 21st keynote at its Infinite Loop campus in Cupertino, California. Apple is expected to unveil its latest iPhone model dubbed the iPhone SE, a new 9.7-inch iPad model and new Apple Watch bands. Now that we know the official date let's look back at all the next-generation iPad rumors that led up to the event. Remember, none of these rumors have been officially confirmed, and we will not know for sure what Apple plans to launch at the upcoming event until it actually takes place.
No iPad Air 3
The next-generation iPad will not be called the iPad Air 3, like originally expected. Unnamed sources told 9to5Mac that Apple will discontinue its iPad Air lineup, and instead released a 9.7-inch iPad Pro in its place.
"Apple will further differentiate the next-generation 9.7-inch iPad from its predecessor by making it part of the new iPad Pro line, according to sources. Much like the MacBook Pro comes in 13-inch and 15-inch sizes, the iPad Pro will soon come in 9.7-inch and 12.9-inch variations. This trend follows Apple not calling its 12-inch MacBook a new Air despite developing the product as an apparent successor to the MacBook Air."
Believable
Most rumors leading up to 9to5Mac's report indicated that the next-generation 9.7-inch iPad would include many of the new features found on Apple's 12.9-inch iPad Pro. Not to mention, if Apple wanted to continue its iPad Air lineup it would have done so in 2015. It is unclear if the new 9.7-inch iPad will be simply called the "iPad Pro" or if Apple will give a different name so customers can differentiate between the two models.
Rumored specs
Several sources and unnamed sources have confirmed the the 9.7-inch iPad Pro will ship with an A9X processor, M9 motion coprocessor, quad speakers, Apple Pencil support, upgraded 12MP camera, rear LED flash and Smart Connector.
Believable
A couple of leaked iPad Pro case designs (leak 1, leak 2) and an alleged design sketch have revealed the 9.7-inch iPad Pro will feature four speakers and a Smart Connector. It makes sense that Apple would incorporate these features in its new tablet since they have been a positive addition to the larger iPad Pro model. The leaked images have also shown cutouts for Apple's new Smart Connector for use with a new 9.7-inch version of its Smart Keyboard, which is also expected to be unveiled at the upcoming keynote. As for Apple Pencil support, it would be stupid for Apple to continue to make its stylus exclusive to the 12.9-inch iPad Pro, and it will offer an additional selling point for the new tablet.
4K Display and Upgraded RAM
In January the DigiTimes reported the next-generation iPad will "come equipped with a 4K resolution panel and up to 4GB in RAM."
"Apple is expected to unveil new models of its iPad Air in March 2016 and production will start in the second quarter, with General Interface Solution and TPK Holding to supply touch panels, according to Taiwan-based supply chain makers."
"The new 9.7-inch device will reportedly come equipped with a 4K resolution panel and up to 4GB in RAM, in addition to improved battery life."
Unknown
The jury is still out on whether will increase the RAM of its 9.7-inch iPad model. The iPad Pro was the first model to feature 4GB of RAM but it was needed to power the larger, more powerful tablet. Other sources, such as 9to5Mac, have also suggested that the 9.7-inch iPad Pro will be able to play 4k video.
Multiple User Profiles
One of the most user requested iPad features is multiple profile support. iPad owners want to be able to create and use multiple accounts on their iPads for easier family sharing. Apple introduced multiple user profiles for students in their updated education tools in the orginal iOS 9.3 beta, but this feature is not available to the general public. This led to speculation that Apple would soon release multiple profiles to the general public.
Not Believable
This will most likely be a public feature in iOS 10, not iOS 9.3.
Rose Gold Option
In February, 9to5Mac reported "there are Rose Gold variations of the upcoming [iPad Air Pro] floating around Apple's campus". Apple is also expected to bring the gold color over to the next versions of the 12-inch MacBook and the iPad mini, according to unnamed sources.
Believable
There's no reason for Apple not to offer new colors of its next-generation devices.
Waterproof iPad
In a December 2015 investor's note, KGI analyst Ming-Chi Kuo suggested that the next-generation iPad will also be the first iOS product to feature an IP rating for water resistance.
Not Believable
Water resistant iOS products has always been a heavily requested customer feature, but Apple has yet to release a 100% waterproof device. The closest waterproof Apple product is the water resistant Apple Watch. While I don't doubt that waterproof iOS devices is in the pipeline, the feature will most likely be introduced with the iPhone 7, not the next-generation iPad.