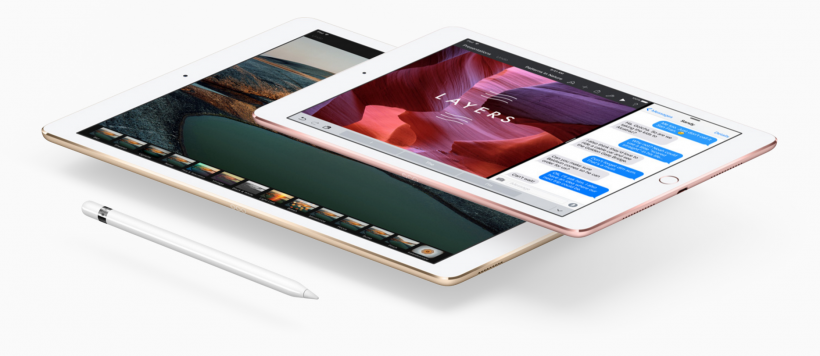 It is time for iPad Air owners to decide if they want to upgrade to the new iPad Pro now that Apple has officially unveiled the 9.7-inch tablet. This decision may be easier this year than past years since there has been a significant amount of time between the iPad launches. The iPad Air 2 was released on October 22, 2014 and the 9.7-inch iPad Pro was announced on Monday, March 21, 2016.
Should you trade-in your iPad Air 2 for the new iPad Pro?
The iPad Pro is a significant upgrade to Apple's 9.7-inch tablet lineup, especially in the camera department. It boasts a 12MP iSight camera with all of Apple's newest camera technologies, such as Live Photos, Focus Pixels and 4K video recording capabilities. The front-facing FaceTime HD camera has also received an upgrade to 5-megapixels from 1.2MP, and it includes a Retina Flash for better low light performance.
While the Retina display is mostly unchanged (2048‑by‑1536 resolution 264 ppi) the new iPad Pro is 25 percent brighter and 40 percent less reflective than iPad Air 2. It also ships with the same wider color gamut as the iMac and it features Apple Pencil support, just like its larger counterpart.
The iPad Pro is more powerful than the iPad Air 2. It is powered by the same A9X and M9 chips found in the 12.9-inch model, and it also supports LTE Advanced, ultra fast wireless technology and it includes a promised "all-day battery life."
Other improvements include a four-speaker audio system with built-in sensors for optimizing audio, Dolby Digital Plus support, always-on Siri, and a Smart Connector for use with Apple's new Smart Keyboard.
The iPad Pro may not be full of fancy new bells and whistles, but it is a powerful device that is capable of replacing any portable PC or laptop, especially when paired with Apple's new Smart Keyboard. It also features the best camera of any of the available iPad models, and it ships with most of Apple's latest technologies and services, such as Touch ID and Apple Pay. As for price it is more affordable than a MacBook, starting at $599 for the 32GB model. Even the new 256GB WiFi and Cellular model is cheaper than a the most basic Apple laptop at $1,029, compared to the $1,229 8GB MacBook.
The iPad Pro is a worthy upgrade if you have been looking to replace your iPad Air or iPad Air 2, or if you are in the market for a new portable computer. It weighs just under one pound and it is capable of doing everything you will need it to do and more, while on the go or at home.