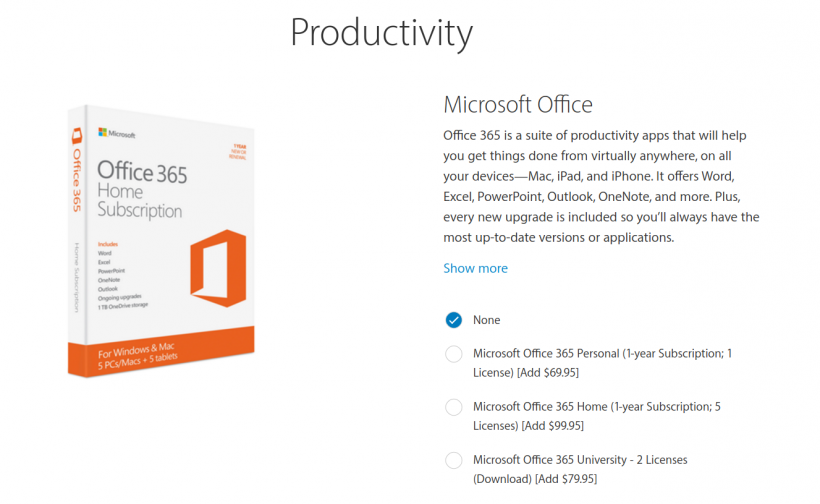 During Apple's Monday iPhone SE keynote, senior vice president of worldwide marketing Phil Schiller said one of the reasons Apple launched a 9.7-inch iPad Pro is to attract Windows users. Schiller said, " the majority of people that come to an iPad Pro are coming from a Windows PC, a desktop or a notebook." This is why it is no surprise that Apple is suggesting Microsoft Office to customers who are looking to pre-order the new iPad Pro model.
First noted by The Verge, Apple is displaying Office 365 as an acessory to the iPad Pro. The suite of Microsoft productivity apps is listed below Apple-related accessories, such as the Apple Pencil and Smart Keyboard at the end of the pre-ordering process.
Apple has its own productivity suite called iWork. It includes tools for creating documents, spreadsheets, and presentations, just like Office. Apple has always pushed iWork to be the better Mac alternative to Microsoft's version, but now the company seems to be suggesting that Office is the way to go when using an iPad Pro.
Microsoft launched Microsoft Word, Microsoft Excel and Microsoft PowerPoint as individual apps for the iPad back in March 2014. Each app is available to download for free from the Apple App Store, but they require a Microsoft Office 365 Personal, Home or University subscription to access advanced features.
The 9.7-inch iPad Pro is available for pre-order starting today. You can pre-order your tablet through apple.com starting at $599.