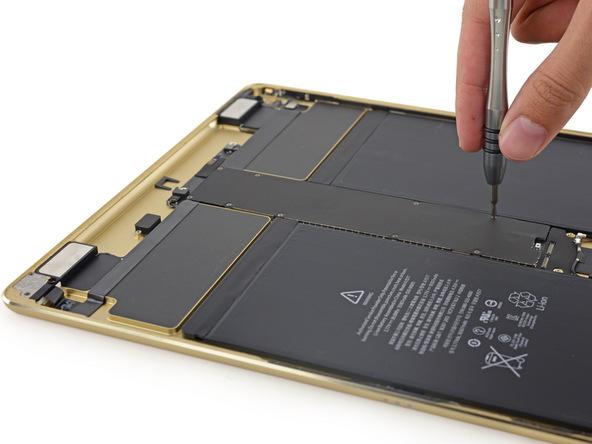 Apple's new iPad Pro model has earned a Repairability Score of 2 out of 10 from iFixit. This puts the 9.7-inch model at the same repairability level as the iPad Air 2, but lower on the scale than the 12.9-inch iPad Pro, which earned a 3 out of 10. The low score is due to "gobs of adhesive" that hold everything into place and a "fused front panel," which make the 9.7-inch iPad Pro more "difficult" to repair. iFixit also noted that the Smart Connector port "is virtually impossible to replace—but incorporates no moving parts and is unlikely to fail."
Inside the new iPad Pro iFixit discovered a 7,306 mAh battery, an Apple APL1021 A9X 64-bit processor and Samsung K3RG1G1 2 GB (16 Gb) LPDDR4 RAM. This means even though the new iPad Pro is more powerful than the iPad Air 2, it features the same amount of RAM as its 9.7-inch predecessor. The smaller iPad also shares the same processor as 12.9-inch iPad Pro, but ships with less RAM at 2GB compared to 4GB. Other chips include 32GB flash storage from SK Hynix, InvenSense EMS-A 6-axis Gyroscope and Accelerometer Combo, which are also found in iPhone SE. The 9.7-inch iPad Pro also utilizes the same NXP Semiconductors 8416A1 Touch ID Sensor as the larger iPad Pro.
You can see iFixit's step-by-step teardown of the 9.7-inch iPad Pro, here and the 12.9-inch teardown from last year, here.
Both iPad Pro models are available through apple.com, starting at $599 for the 9.7-inch WiFi-only model.