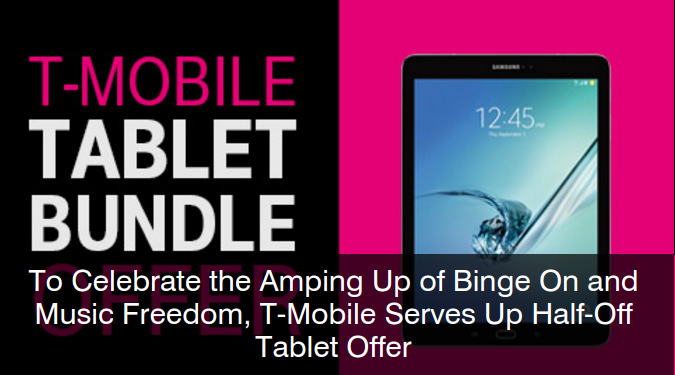 In celebration of adding 16 new music streaming sources to its Binge On and Music Freedom services, T-Mobile is offering up to $200 off the purchase of a tablet when you buy a smartphone from the same manufacturer. Anyone who purchases a new Apple, LG or Samsung smartphone can also buy an additional tablet for half off.
"Anyone who buys a flagship smartphone from Apple, LG or Samsung on Equipment Installment Plans (EIP) can get up to 50% off any tablet from the same brand (up to $200) with a prepaid card for a limited time while supplies last."
The promotion includes up to $200 off Apple's new 9.7-inch iPad Pro, which is a great deal for T-Mobile customers planning to purchase the new iPhone SE. Taking advantage of T-Mobile's tablet deal would allow you to nab a 32GB WiFi-only iPad Pro for $329, or you can knock $200 off the 12.9-inch model pricetag. The 50% off applies to all available iPad models through T-Mobile when you purchase a new iPhone on an installment plan. You can head on over to T-Mobile's News Room for more details and fine print.
T-Mobile's Binge On and Music Freedom allows customers to access more than 100 music and video services on any of their devices for free. T-Mobile on Tuesday added popular music streaming services such as Amazon Music and ESPN Radio, and video services such as Dailymotion, EPIX, Nickelodeon, Spike, TV Land and more.
"As of today, you stream unlimited music and video from over 100 providers - without ever touching your Un-carrier Data or worrying about overages—and you can stash what you don't use for later," explained T-Mobile CEO and president John Legere.
You can learn more about Binge On and Music Freedom at t-mobile.com.