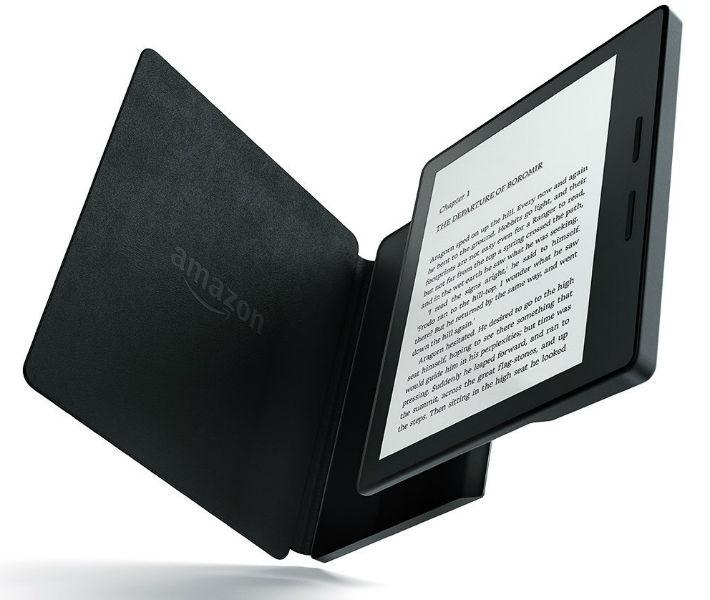 Amazon today announced the Oasis -- the company's "thinnest and lightest Kindle ever." The eight-generation Kindle is "30% thinner on average and over 20% lighter than any other Kindle," according to Amazon. It weighs just 4.6 ounces and is just 3.4 mm at its thinnest point. The Oasis features a "featherweight" polymer frame that is "plated with metal by structural electroplating." This allows the digital reader to be lightweight while not being fragile. It is also designed to shift the center of gravity to your palm to give it a more book-like feel when reading.
The Oasis boasts a high-resolution 300 ppi Paperwhite display with 60% more LEDs giving it the brightest screen out of the entire Kindle family. It also ships with a built-in front light and new dual-battery system. Users can charge the device and its cover simultaneously when both devices are snapped together. The charging cover also acts like an Apple Smart Cover waking the device when opened, and it will automatically charge the Oasis when you're on the go. Together the Oasis and cover provide "months of combined battery life," according to Amazon.
The Oasis includes all of Amazon's advanced e-reader features, such as Whispersync, X-Ray, Word Wise and more. The Kindle Oasis is availble for pre-order for $290 through amazon.com. It is the priciest device in the Kindle family. You can still nab a basic Kindle for $80, or Paperwhite for $120. The Oasis also joins the $200 Kindle Voyage in the expanding Kindle family.