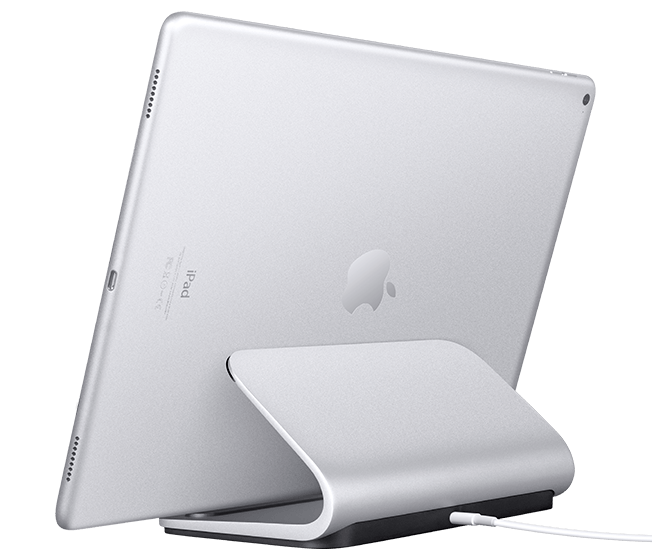 Accessory maker Logitech has given both Mac Rumors and 9to5Mac an early preview of their Logi BASE -- an iPad Pro charging stand for both the 9.7- and 12.9-inch models. The Logi BASE uses the iPad Pro Smart Connector to charge your tablet without the need of cables.
The stand is made from high-grade aluminum and it features three Smart Connector pins that fit into the Smart Connector Port on any iPad Pro, plus it includes a Lightning port situated in the middle of the stand. The Logi BASE allows you to charge your iPad in landscape mode while delivering the "perfect viewing angle for enjoying apps and entertainment," according to Logitech. A plastic lip on the front of the stand holds your iPad in place and a sticky adhesive on the bottom prevents the charging dock from slipping on slick surfaces.
Both Mac Rumors and 9to5Mac gave the Logi BASE high marks with only a few minor complaints. Mac Rumors says the iPad is easy to knock off the stand since not much is holding it into place, and 9to5Mac noted it does not work with Apple's Smart Cover.
"If anything, the Logi Base highlights the potential that the Smart Connector offers for accessory makers," eplains 9to5Mac's Chance Miller. "Overall, however, Logitech has created a solid and well executed iPad Pro dock. The adhesive on the bottom ensures that your iPad Pro is safe while it's docked and the all-aluminum design means that it blends in perfectly with your device and other Apple products."
The Logi BASE is available starting today for $99.99 through logitech.com.