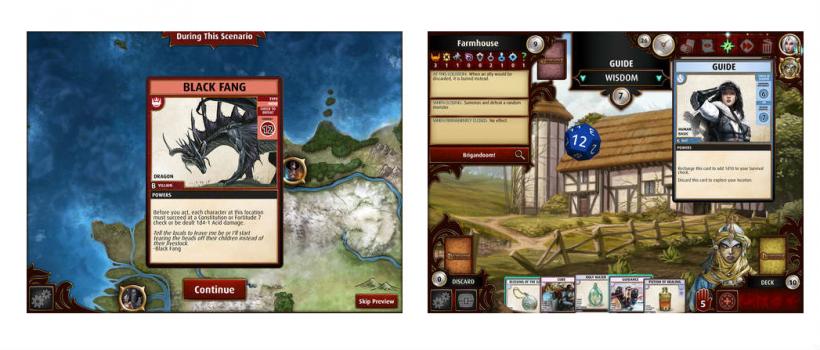 Paizo Inc.'s adventure role playing game has made its way to the iPad. Pathfinder Adventures is a 1-4 players cooperative card game based on the popular tabletop game. The app was released by Obsidian Entertainment and it includes all the towns, cities, dungeons and landscapes from the Rise of the Runelords campaign. The app comes with one free adventure, and offers two additional adventures, Burnt Offerings and The Skinsaw Murders, as IAPs. You can download all the current adventures plus future adventures in the Rise of the Runelords pack for $24.99.
Based on early reviews the game seems like a must download for owners of the physical game and fans of RPGs and collectible card games. Pathfinder Adventures includes an interactive tutorial for beginners, no set-up required, single player and pass-and-play multiplayer gameplay modes and lots of Pathfinder's iconic characters. The mobile version also features animated backdrops of iconic Pathfinder locations and reactive cutscenes.
The Pathfinder Adventures card game has a confusing history going all the way back to the Pathfinder Roleplaying Game, which was basically Dungeons & Dragons 3.5. The game was originally called Pathfinder Adventure Card Game, which you can learn more about here.
Pathfinder Adventures is available for free on the Apple App Store. It supports all iPad models running iOS 7.1 or later and it does include in-app purchases for in-game gold, plus additional adventures. As mentioned above, the $24.99 Rise Of The Runelord option seems to be the best option for people who enjoy the game.