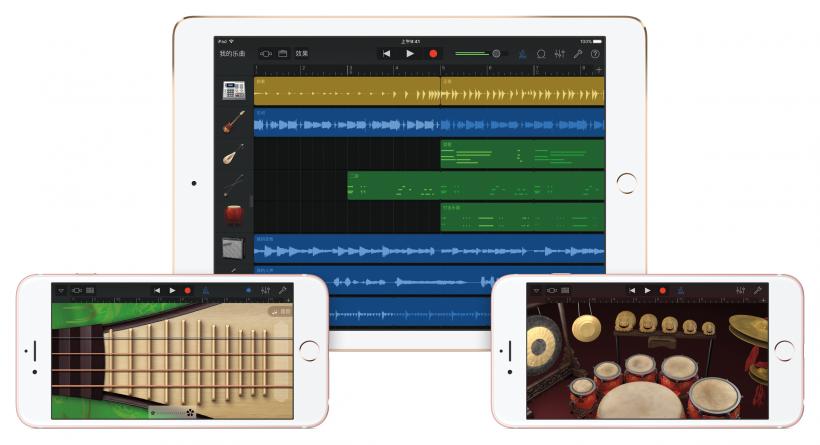 Remember GarageBand? It's that thing on your Mac you probably never use. Apple has updated the music creation tool to version 2.1.1 for iOS and version 10.1.2 for OS X. The update "celebrates the rich history of Chinese music with new instruments and extensive Chinese language localization," according to the Press Release.
Basically Apple has added a bunch of traditional Chinese instruments and Chinese musical loops to its music creation app. The update also includes the ability to search for music loops with alphabetical sidebar, AirDrop support and the ability to add custom images to songs shared to YouTube and Facebook.
"GarageBand is the most popular music creation app in the world and we're excited to introduce these new features that incorporate the rich history of traditional Chinese music," said Susan Prescott, Apple's vice president of Product Marketing. "By adding classic Chinese instruments and new Live Loop templates, the new GarageBand app makes it fun and easy to make Chinese-inspired music right on your iPhone, iPad or Mac."
The GarageBand update comes suspiciously around the same time Apple CEO Tim Cook has been touring Beijing in an attempt to reinvigorate sales in China, Apple's second-largest market after the United States. Apple announced this week that it had invested $1 billion in the Chinese ride-hailing app Didi Chuxing, and it hosted an iOS developer's panel at the Apple Store in Beijing.
Apple has taken some pretty big blows in China recently. The company lost the "iPhone" trademark on leather goods in the country, and some of its online services, such as iBooks, were mysteriously suspended.
GarageBand is available for $4.99 on the Apple App Store and Mac Store. It supports all devices running iOS 9.0 or later.