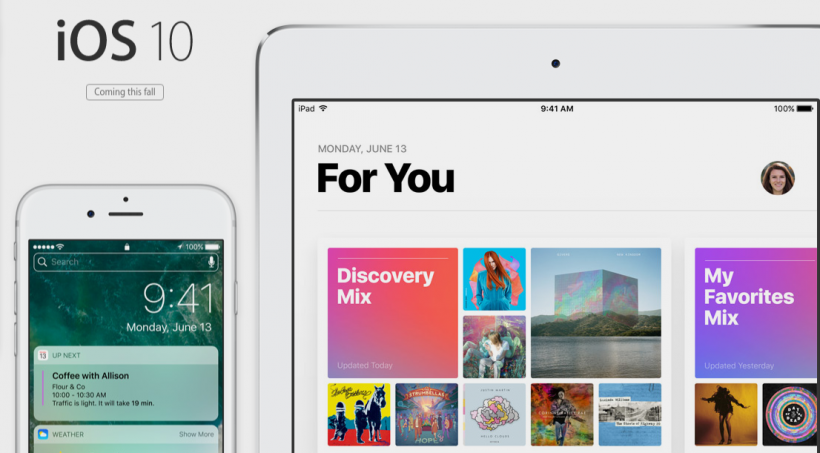 Apple introduced macOS Sierra, watchOS 3, a new tvOS 2 and iOS 10 on Monday, June 13 during its WWDC keynote at the Bill Graham Civic Auditorium in San Francisco, California. Each new operating system includes at least one popular user requested feature, such as Single Sign-In for the Apple TV 4. The most anticipated feature not announced by Apple at the event is the ability to remove pre-installed Apple apps from iOS devices. Users have been clamoring for this ability since the launch of the original iPhone back in 2007. You can see a list of stock apps that you will be able to remove from your Home screen in iOS 10 by clicking here.
Unlike iOS 9 which added multitasking to the iPad, iOS 10 does not ship with any iPad-only features. The new operating system seems focused on cute messaging gimmicks more than anything else. Most iPad owners were hoping for multiple user logins, like the multi-user education mode introduced in iOS 9.3, but Apple did not deliver. Apple is calling iOS 10 "big, bold and beautiful." The iOS 10 preview page on apple.com highlights a variety of new messaging features, such as the ability to handwrite messages, change message bubbles and the ability to send "invisible ink" texts or add stickers.
Other iOS 10 features include an improved Maps app with a reservations option and smarter street suggestions, a redesigned Apple Music app, a new Home app for a HomeKit-enabled devices, a raise to wake feature on the iPhone, more 3D touch features and rich notifications.
Siri and Apple Pay will finally be available across all Apple devices with the release of macOS Sierra. Mac owners will be able to use the digital voice assitant to multitask while working on projects, search for files and images, and even look up movie times then pay for tickets using Apple Pay.
WatchOS 3 includes a variety of new Watch faces, including Minnie Mouse with changeable outfits, the ability to share health information with friends and family, a handwriting feature for replying to messages, a new Breathe app and an SOS option for quickly contacting emergency services from your wrist.
Apple didn't really explain how the Single Sign-In feature for the Apple TV would work, but it should hopefully put an end to having to sign in over and over to individual apps. Apple TV owners who use their cable provider to log in to third-party apps, like ESPN, have to login every time their Apple TV is updated. This is an annoying process that makes the device almost unusable, making the Single Sign-In option potentially one of the best new features Apple announced on Monday. However, we will have to wait until the new tvOS is available to see if it actually solves the problem or not.
The first public beta for iOS 10 will be available soon and the final version will be available this fall with the release of the iPhone 7. The new watchOS and macOS Sierra will also be availble this fall, and the new tvOS is listed on apple.com as "coming soon."