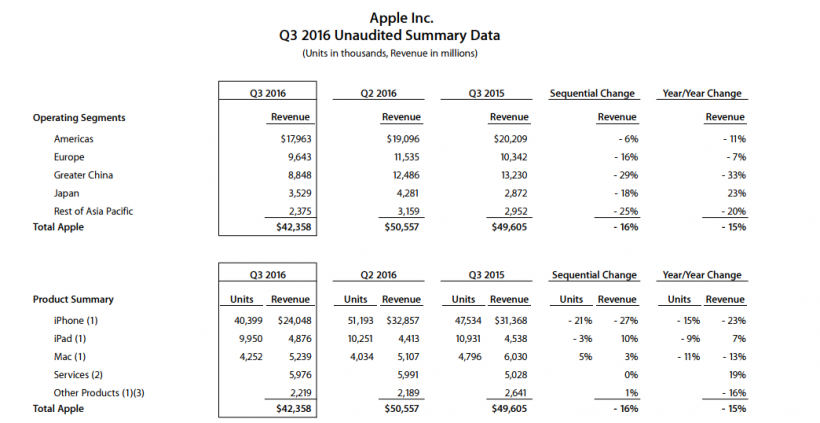 Apple announced its third quarter financial results for 2016 with declining iPhone, iPad and Mac sales. The consumer tech giant did manage to beat analyst expectations earning $42.4 billion for the quarter, but it also saw its biggest decline in iPhone sales sinces its first handset slump in March. Apple reported that it shipped only 40.4 million iPhone units in Q3 of 2016, compared to 47.5 million units from last year. The iPad also continued its slide falling 9% with 9.95 million tablets sold, and Mac sales fell 11%, marking another quarter of decline. Apple once again did not release numbers for the Apple Watch or Apple TV.
iPad revenue did see a slight increase thanks to the iPad Pro, and Apple received a slight boost in sales in March thanks to the release of the iPhone SE.
Apple Chief Executive Tim Cook said he was optimistic about the demand for the iPhone, especially in India where sales rose 51% in the last three quarters, and he was also encouraged that iPad revenue was on the rise the first time in years.
"There are a number of encouraging signs in the results," Mr. Cook told The Wall Street Journal (via MarketWatch). "This last quarter was surprising because it was better than we expected from so many different points of view, not just one thing."
Both Apple and Samsung have been dealing with the rise of Chinese rival Huawei, who has managed gain ground in the global smartphone market with its lineup of more affordable devices. Apple has also lost ground in China due to restrictions from the government and is facing a tax probe in Europe. Sales in China fell 33% to $8.85 billion in Q3 of this year.
Apple's hardware woes are not a surprise. Smartphone buyers are keeping their devices longer due to longer lifespans and the lack of new features. Smartphone makers will need to focus on increasing revenue by offering more options on the software side, such as music streaming and App Store downloads. Apple plans to launch a relaunched Music app in hopes to increase song downloads and attract more users to its subscription service.
Apple is also set to launch its next-generation iPhone and iOS 10 in the fall. iOS 10 includes a variety of new messaging features and third-party app support for Siri, but the iPhone 7 may lack all the new bells and whistles to make an impact on overall hardware shipments.