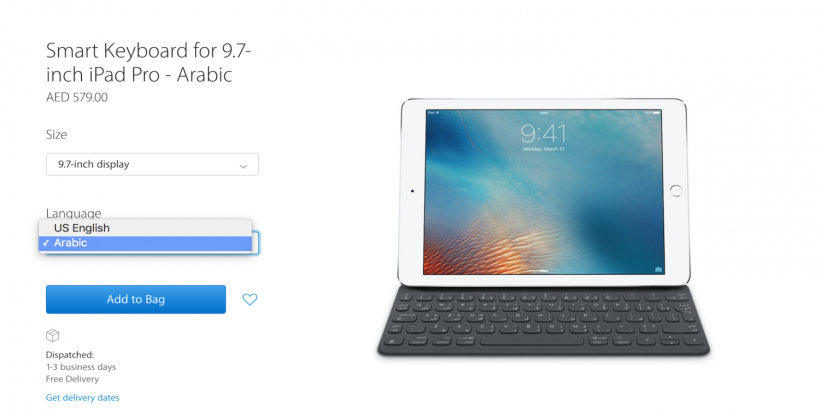 Apple has launched several international Smart Keyboards for both the 12.9- and 9.7-inch iPad Pro models. Spotted by 9to5Mac, the new keyboards offer a variety of localized layouts including British English, French, Spanish, Korean, Italian and Arabic. Customers are now given the choice between "US English" or the language of their respective country when shopping on supported Apple websites. The new language option is located under the Size option on the iPad Pro checkout page.
The Smart Keyboard is a detachable keyboard that connects to your iPad Pro via its Smart Connector. This eliminates the need for charging cables and Bluetooth syncing since the Smart Connector is designed to transfer both data and power between the keyboard and tablet. The keyboard also features QuickType shortcuts, and a no-gap, water- and stain-resistant key design for keeping your keyboard safe from crumbs and spills.
The iPad Pro Smart Keyboard is available through apple.com for $150 and $170 for the 9.7-inch and 12.9-inch models.
Yesterday Logitech released a 9.7-inch version of its Create keyboard case for the iPad Pro. The Create keyboard also utilizes Apple's Smart Connector, and it offers backlit keys, which are not available on the Smart Keyboard. The Create keyboard can be purchased for $150 directly from logitech.com.