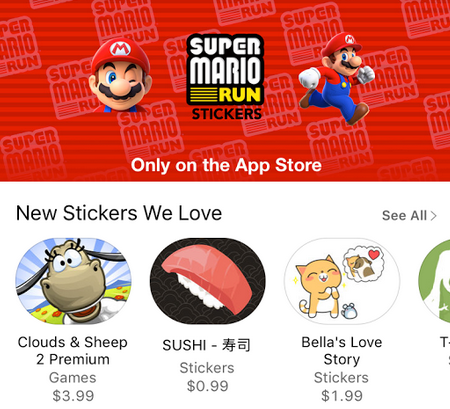 One of the new messaging features introduced in iOS 10 is Stickers. These are static or animated images that you can attach to text bubbles in the Messages app. Stickers are available in packs on the App Store. You can access sticker packs by either downloading an app that features its own stickers or by downloading specifically created sticker packs from the iMessage App Store.
The access the iMessage App Store, open your Messages app and tap the grey arrow next to the iMessage text box. Tap the App Store icon to open your app drawer, then tap the four grey dots in the lower left hand corner. Finally, tap the blue + sign labeled "Store" and you will not be able to access all the premium and free available sticker packs.
Sticker packs are just like apps. There are paid or premium packs, and free packs. You download them just like any app from the App Store. Once installed, you can access any sticker packs in your app drawer the same way you access the App Store in the Messages app.
You can set your device to automatically add sticker packs to your app drawer but once again navigating to the iMessage App Store and selecting Manage. From this screen you can tap the Automatically Add Apps slider so it is ON/GREEN or add individual apps and sticker packs to your app drawer. If you have the automatic slider enabled, your device will automatically add any compatible app or sticker pack to your app drawer.
Once your sticker packs are added to your app drawer, you can send them individually by simply tapping them in the app drawer, or attach them to message bubbles.
To attach a sticker to a message bubble, just tap and hold down the sticker you want to use, then slide it to the message bubble you want to attach it to. Remember, you can only attach stickers to message bubbles in iOS 10 or later. Users with older devices or those who are not running iOS 10 will not be able to see stickers attached to bubbles.
To delete a sticker from a message thread, tap and hold down on the sticker you want to remove, then select Sticker Details from the pop up box. From here you can see the sticker details or swipe left on the sticker to delete it.