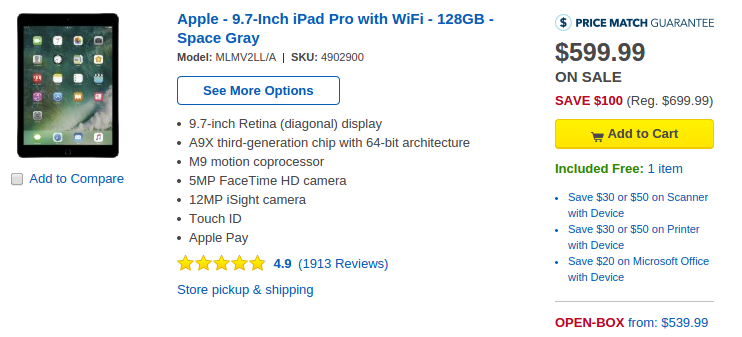 We don't cover a lot of iPad sales, mostly because Apple products are not commonly offered at a discount. This is why Best Buy's current deal on both the 12.9- and 9.7-inch iPad Pro is worth mentioning, even if it is only available for 1-day.
Best Buy is offering both models at a $100 discount. You can nab a 9.7-inch model starting at $499.99, or a 12.9-inch model starting at $699.99 . All four color options and capacities are currently available for the 9.7-inch model . The larger 12-inch model is only available in Gold, Gray, and Silver and in all 3 storage capacities.
iPad models are normally only discounted during holiday sales or before a new product refresh is around the corner. For example, stock of the iPad Air 2 dried up before Apple's September keynote, due to the company introducing new storage capacities for the older tablet. Apple isn't expected to launch a new iPad model until 2017, making it a good time to nab a current model.
The sale expires at midnight tonight, according to phoneArena.
You can save $100 on a 12.9-inch iPad Pro here and on a 9.7-inch iPad Pro model here.