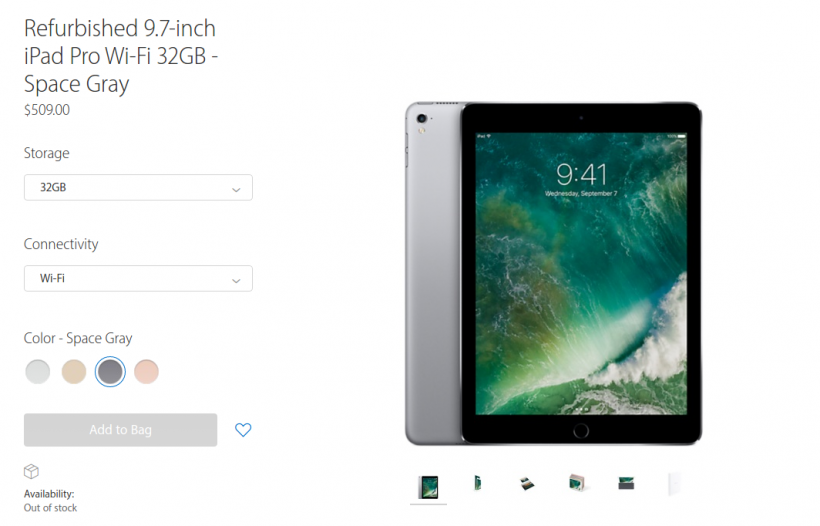 After adding refurbished iPhone models to its online store on Monday, Apple has also added refurbished 9.7-inch iPad Pro models to the mix. Prices for the refurbished iPads range from $509 for the WiFi-only 32GB model (a saving of $90) to $789 for the 256GB Cellular model. All storage capacities and colors are available through the online store, however, they all are sold out at the time of this post. You can see a list of current iPad Pro prices here, as a comparison.
Refurbished iPad and iPhone models are all backed by Apple's one-year limited warranty with the option to further expand coverage through AppleCare. Each refurbished product also undergoes a "rigorous refurbishment process" to make sure it meets the highest standards, according to Apple.
You can check for refurbished Apple products here. There are several refurbished iPhone 6s deals currently available. Each refurbished iPhone 6s is around 15 percent cheaper than its original price, but they must be purchased outright, with no carrier subsidies or installment plans available. Each refurbished iPhone also come with a full one-year warranty, new battery and new outer case.
While purchasing a refurbished iPad or iPhone is a great way to save money, don't forget Black Friday is right around the corner. Several retailer's Black Friday ads were leaked early and contain deals on many iPad products, such iPad Air models, iPhone 7 models and more.