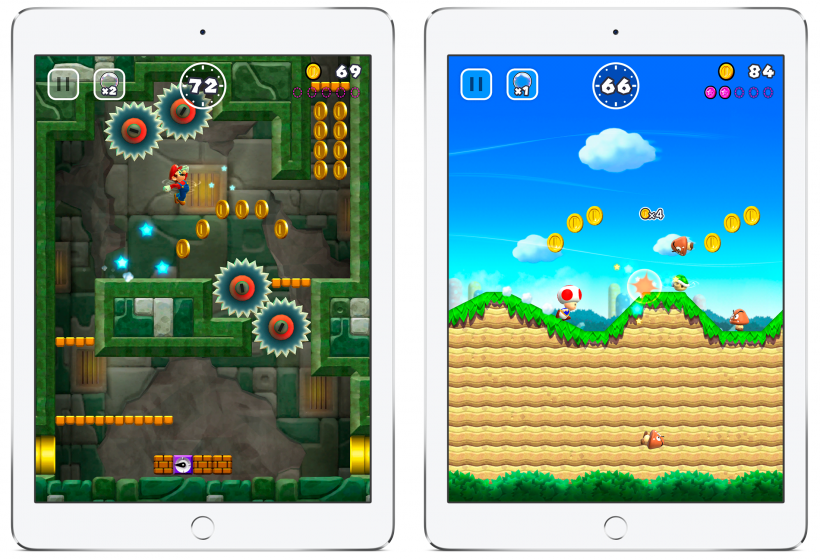 We won't know for sure if Super Mario Run will be the game everyone has been waiting for until it is officially released on December 8th, but we do know it is one of the highest anticipated iOS releases since the launch of the App Store. It is hard to think of any other mobile title that has had this much buzz ahead of its launch, and Super Mario Run fever has reached even newer heights this week. It all started with Reggie Fils-Aime, President of Nintendo of America, visiting The Tonight Show with Jimmy Fallon to give the host a demo of the new game. Shigeru Miyamoto even made an appearance on Fallon's show to play the Super Mario Bros. theme with The Roots. You can watch both videos below.
Nintendo is currently giving demos of Super Mario Run at Apple Stores across the country. Several websites have also received an early look at the game and have released their opinions on what players can expect. You can read Touch Arcade's thoughts here and check out Engadget's hands on preview here.
Super Mario Run will be available for all devices running iOS 8.0 or later on December 8th. The game will be free with the option to purchase the full version for $9.99. The Super Mario Run sticker set has also been updated with new stickers ahead of the game's release.
Another classic game has also received the mobile treatment this week. Rockstar has released Bully: Anniversary Edition to the App Store. The mobile version includes "everything from the critically acclaimed Bully: Scholarship Edition, support for high-resolution displays, enhanced graphics, improved lighting and textures, controls redesigned for touch gameplay, and new Friend Challenges," according to the official App Store description.
Bully: Anniversary Edition is available for $6.99.
Here are the rest of this week's noteworthy App Store releases: