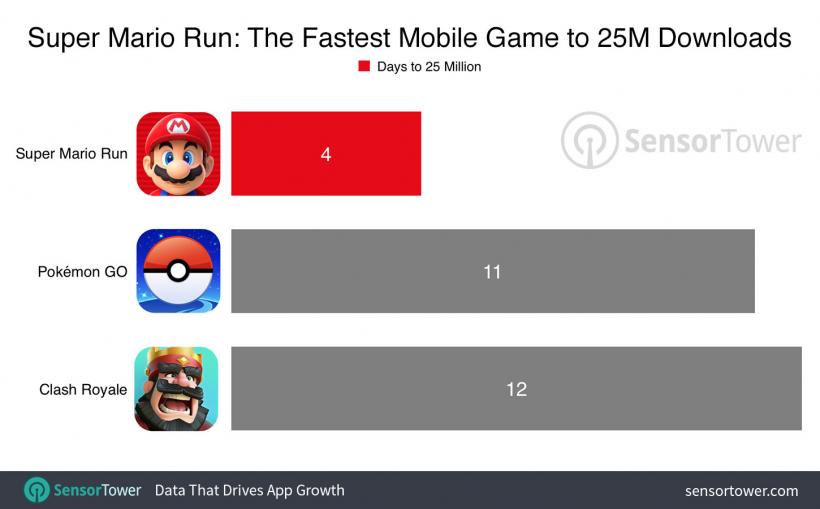 Super Mario Run has had a rocky and successful App Store Launch. According to the app analyst Sensor Tower, Super Mario Run is the fastest game to reach 25 million downloads on the Apple App Store. The Nintendo game beat out Pokémon Go, which took 11 days to hit 25 million, compared to the 4 days that it took Super Mario Run to reach the same number. It is estimated that 2.1 million users have paid for the full version of the game, but the high premium of price of $9.99 has hindered the success of Mario's first iOS title.
Super Mario Run has earned a disappointing 2.5 star rating on the US App Store, and in Japan 63 percent of ratings for the game are currently at one star, according to Sensor Tower.
Most users think the game's quality does not warrant a $10 price tag, especially when so many other games offer much more content for free. The full version of Super Mario Run only includes 6 playable worlds, and the bonus game, Toad Rally, which requires earned in-game tickets to access. The news got even worse after an official Nintendo spokesperson told The Wall Street Journal that there are no plans to add additional free or paid content to the game. However, Nintendo did push out a small update with a new game mode called "Friendly Run."
Friendly Run is a ticket-free version of Toad Rally that can only be played 1-5 times a day. Players who payed for the full version can play Friendly Run 3 times a day after completing World 1, and 5 times a day after completing World 2. iPad and iPhone owners with the free version of the app can only access the Friendly Run mode once per day after adding some friends. Friendly Run is like a practice mode and does not earn a player coins, Toads or any other bonuses.
Update: Nintendo has issued a press release claiming Super Mario Run has been downloaded 40 million times since its launch on December 15th.