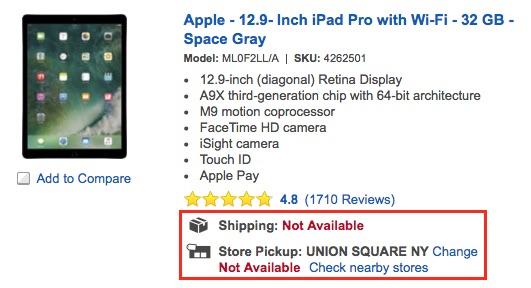 The 12.9-inch iPad Pro is in short supply ahead of the rumored next-generation iPad refresh in March, according to MacRumors. The Apple blog did a spot check of Apple's online store and third-party retailers, such as Best Buy, AT&T, and Verizon. MacRumors discovered that Apple store shipping times in the US have slipped from 1-2 weeks to 2-3 weeks, and in-store pick ups are currently listed as arriving around March 3rd. While this isn't proof that a new iPad model is right around the corner, the largely backordered status of the 12.9-inch model at third-party retailers does make one wonder.
"12.9-inch iPad Pro models are also largely out of stock or backordered by several weeks at resellers such as Best Buy, AT&T, and Verizon in the United States. That's in sharp contrast to the 9.7-inch iPad Pro, which remains well stocked and available to ship immediately on both Apple's website and at resellers."
Increased shipping times through Apple's online store normally precedes all product refreshes, but as MacRumors points out, this can also be caused by the supply chain. However, increased shipping times plus backordered models at large third-party retailers typically indicates Apple is preparing to unveil its next-generation of devices.
Rumors have pointed to a possible Q2 release of three new iPad models, including a second-generation 12.9-inch iPad Pro. If true, Apple could unveil its new iPad models at its first keynote of 2017 sometime in March.
Little is known about the rumored new iPad models, but several sources have indicated Apple will launch a 10-inch model with slimmer bezels, a new 12.9-inch model with True Tone display, and a "low-priced", entry level 9-inch model.
Other rumors have suggested that the rumored 10-inch model will ship with a display embedded Home button, and that Apple will also release an updated version of its stylus, the Pencil.