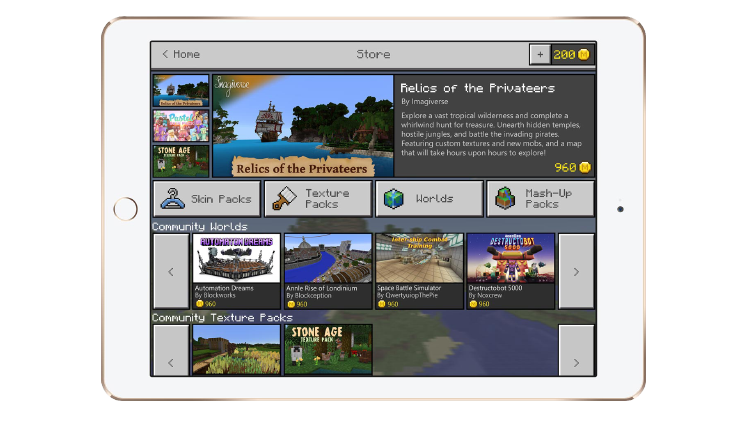 Minecraft announced today that it is adding a community driven Marketplace to the mobile and Windows 10 versions of the popular sandbox title. The Marketplace will allow players to purchase adventure maps, texture packs, minigames and more created by popular 'crafters, such as BlockWorks and Qwertyuiop The Pie. Other "heroic 'crafters" Blockception, Sphax, Eneija Silverleaf, Imagiverse, Polymaps and Razzleberry Fox will also be on board for the official launch.
Minecraft will begin testing a new in-game currency called Minecraft Coins in mid-April. Players will be able to purchase Minecraft Coins as IAPs to use in the Marketplace, which will launch sometime this spring.
The idea of the Marketplace is to give "creators another way to make a living from the game, allowing them to support themselves in the creation of ever-greater projects, while giving Pocket and Windows 10 players access to a growing catalogue of fun stuff," according to the official blog. Items in the Marketplace will be curated and safely supplied by Minecraft, who will take a 30% cut, while the rest of the money will go directly to the creators.
Players will be able to access all the items they purchase across devices using their Xbox Live account.
You can learn more about the Minecraft Marketplace here and give feedback via the official forums. Minercraft will also be holding a Reddit AMA on Thursday, April 20, from 9am - 12pm PST to discuss the new rollout.