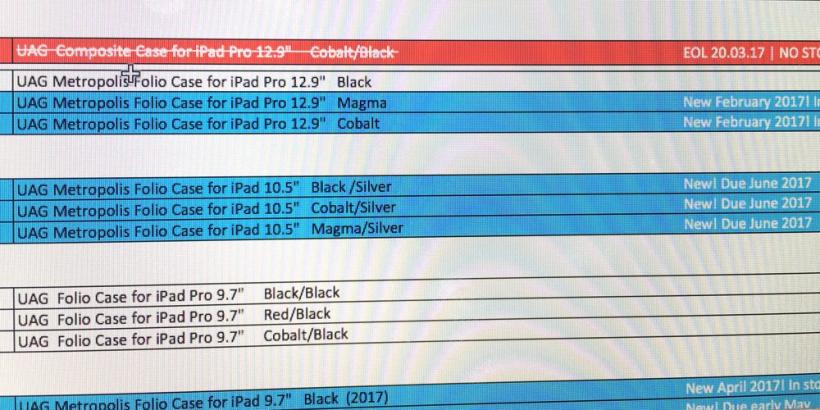 Three Urban Armor Gear folio cases for the rumored 10.5-inch iPad Pro have appeared in an alleged photo taken from the stock system of an unnamed "Apple Authorized Reseller," according to 9to5Mac. As you can see from the 9to5Mac image posted above, the UAG Folio case is already available for both the 9.7-inch and 12.9-inch iPad models. The image also lists three "UAG Metropolis Folio cases for iPad 10.5-inch" in various colors.
The Urban Armor case is just another sign among many that Apple plans to release a new 10.5-inch iPad to replace the current 9.7-inch Pro model. Several reports have suggested that the new 10-inch iPad will ship with slimmer bezels to give it a similar form factor as its predecessor.
It is unknown when Apple plans to unveil its new 10-inch iPad, but some have suggested it could be revealed at WWDC on June 5th. However, 9to5Mac points out this unlikely since the 10.5-inch model will include an embedded Home button due to its slimmer bezel. Apple most likely wants to use the iPhone 8 to unveil its new Home button design, and may wait to launch its new iPad after its upcoming iPhone refresh in the fall.
Apple chose to release an entry-level 9.7-inch iPad in March of 2017 instead of refreshing its current iPad Pro lineup like some had predicted. The new 9.7-inch iPad is available starting at $329, making it the most affordable model currently available.