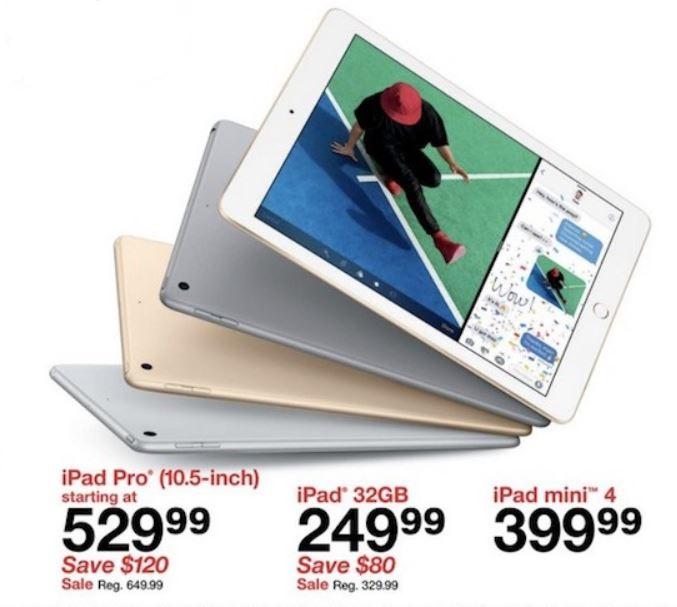 Black Friday is only a few weeks away which means hundreds of retailers will soon be releasing their ads with tons of deals. The first big retailer out of the gate is Target. The big box retailer has just released a 36-page circular with deals on everything you can imagine, including Apple products.
On page 5 you will find deals for the iPhone 8, Apple Watch and iPad.
The iPhone 8 and iPhone 8 Plus will come with a $250 Target gift card, and the iPhone SE will be available for only $99.99. The Apple Watch Series will be available for only $179.99, which is a savings of $70. Apple iTunes gift cards are listed on page 11. This year all gift cards are buy one, get one for 30 percent off.
Target is also offering deals on the revamped 9.7-inch iPad and 10.5-inch iPad Pro. However, deal websites are predicting that other retailers, such as Best and Walmart, will be offering better deals on the iPad this year. Make sure you shop around to find the best deals before you make a final decision. Target also included the iPad mini 4 in its ad, but it is listed at its normal $399 price.
Target's 2017 Black Friday prices for the iPad
9.7-inch iPad 32GB - $249 (normal price $329) Savings = $80
10.5-inch iPad starting at $529 (normal starting price $649) Savings = $120
Make sure you bookmark our Black Friday page for more upcoming iPad deals.