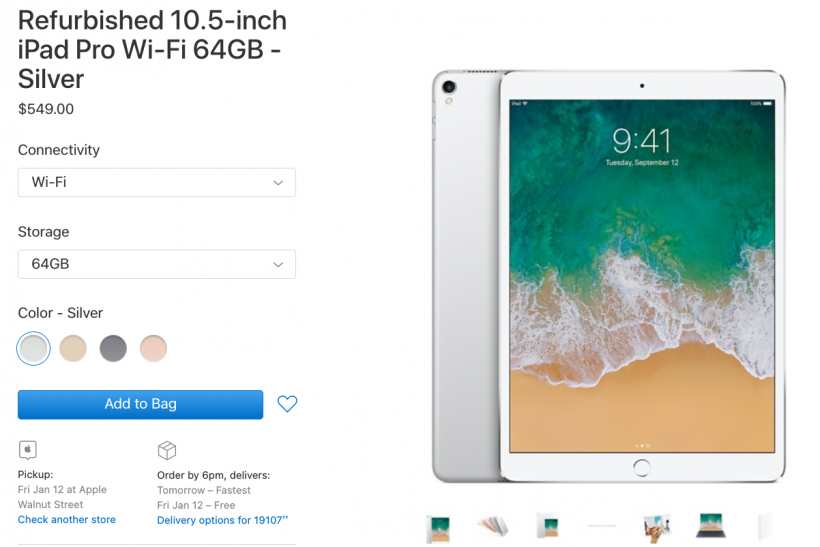 Apple has added refurbished 10.5-inch iPad Pro models to its online store in the US and Canada. This is the first time Apple has offered the 10.5-inch iPad as a refurbished model in the US. Currently most models and colors are available in the WiFi-only variant.
The starting price for a refurbished 64GB Wi-Fi model is $549, which $100 less than the normal $649 asking price for a new model. The 265GB refurbished model is available at $679, and the 512GB Wi-Fi version is listed at $849. New models of the same variants will set you back $799 and $999, respectively. At the time of this post, only the 512GB Cellular model is available in all four colors at $959.
Apple's refurbished products ship repackaged with a brand new battery and new outer shell. All refurbished models are tested and certified, and come with a 1-year warranty. You can extend the warranty to up to 2-years for $99 with AppleCare+ for iPad.
Supply is limited but availability is guaranteed upon payment.
The 10.5-inch iPad is equipped with a 2224-by-1668 Retina display, a 12-megapixel iSight camera and Apple's A10X Fusion chip with 64‑bit architecture.
The 10.5-inch iPad Pro was originally released in June 2017.